In the developed world, it takes dramatic visionaries to tell us what our future might hold.  Self-driving cars?  Trips to Mars?  Self-driving cars taking trips to Mars?  In the emerging markets, anyone can tell what the future might hold – it might, with the right policies and a bit of luck become more normal.  And there is plenty of upside for investors if they can inch towards normalcy.
Today, crypto is still an emerging market.  Outages take sites offline.  There are chaotic squabbles between factions.  Gangsters lurk in the shadows.  But just a little twitch here and there towards normalcy can offer opportunity.  We know what a normal equity brokerage looks like, so imagining a normal exchange for digital currency is pretty straightforward.  No dramatic visionaries needed here, at least as investors.
One recent example involved Coinbase.  The Coinbase digital API indicated that Bitcoin Cash would be added to their site.  This normalizing step of adding a major currency has been a great opportunity for investors.  Bitcoin Cash was trading at a 50% discount to its "normal"/more liquid value once price could clear on a popular exchange.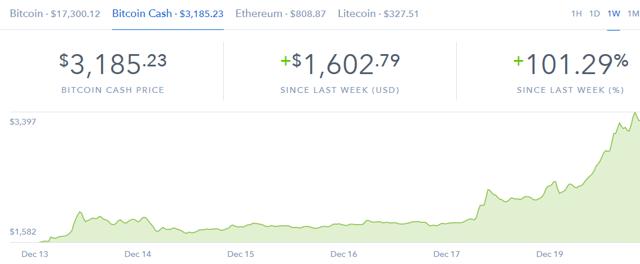 But it is not yet over… it is still an emerging market and Coinbase is still a bit of a hot mess.  It will improve and my estimate of normal Bitcoin Cash trading remains January 2018.  Meanwhile, you can buy Bitcoin Cash here.
If you live and work in the developed world, the shortcomings of Bitcoin and other digital currencies can make it seem like a third world banana republic… because it still is.  If I lived in a free country such as Singapore or Switzerland, my everyday concerns with currency would be muted enough to keep most of my cash in local currency and keep my Bitcoin allocation to 10% (as is my practice).  However, if I lived in a repressed country such as Zimbabwe or Switzerland (see the bottom of the rankings here), that allocation would probably be 90%.  I might also consider moving.  While the digital currency world is still third world, that is changing fast with plenty of opportunities along the way.
Disclosure: I am/we are long bitcoin and bitcoin cash.
Additional disclosure: I reserve the right to make investment decisions regarding any security without notification except where notification is required by law. Disclosed ideas are related to a specific price, value, and time. If any of these attributes change, then my position might change. This post may contain affiliate links, consistent with the disclosure in such links.