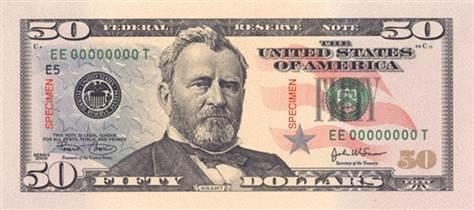 (Click on image to skip the explanation and go right to the free $50.)
Grant
I am a big fan of Gen. Grant, especially after finishing Ron Chernow's magnificent biography. I'd be fine with dropping Pres. Jackson from the $20, but think that Grant's place should remain on the $50. Want one with no risk and minimal bother? Here's how:
Get $50
Deposit $100 into SoFi Money and they will add $50 to your account within two weeks. Here are the details: They offer a 2.25% annual percentage yield. The account features unlimited free ATM usage – no ATM transaction fees and no foreign transaction fees either. There are no account fees. The average bank account charges $329 in account fees per year compared with $0 at SoFi. There are no account minimum fees or overdraft fees. This compares with the average overdraft fee of $38. They don't even charge anything for the first replacement card.
$0 Fees
I have hundreds of bank accounts (don't ask) and some charge account opening fees, monthly fees, annual fees, fees on foreign transactions, on inactivity, dormant accounts, escheatment, P2P transfers, bill pay, mobile check deposits, physical checks, return items, overdraft, point of sale transactions, and ATM transactions. If I have enough of a balance or squeal loudly enough they can occasionally be avoided or reversed. At SoFi it is easier: they are all $0.
Too Good To Be True?
There are two reasons why this isn't too good to be true. First, it is a direct to customer, internet/app-based offering with low overhead that allows them to pass on savings to you.
Secondly, we are in the midst of a mad tech startup bubble. Investors are offering pre-public companies virtually any amount of capital if they can show growth. So some recipients are happy to simply pay for that growth. In the case of SoFi, they have received $2.5 billion of funding in twelve rounds over seven years, most recently a $500 million private equity round from the Qatar Investment Authority in May. This values the company at $4.3 billion. In such circumstances, it is better to receive than to give. You can receive $50 of this $500 million simply by depositing $100, getting some of the cash and allowing them to show growth. Such opportunities will not be around forever, but are worth the couple of minutes it takes to take advantage of this one today.
Disclosure: I/we have no positions in any stocks mentioned, and no plans to initiate any positions within the next 72 hours.
Additional disclosure: The information contained on this article is not and should not be construed as investment advice, and does not purport to be and does not express any opinion as to the price at which the securities of any company may trade at any time. The information and opinions provided herein should not be taken as specific advice on the merits of any investment decision. Investors should make their own decisions regarding the prospects of any company discussed herein based on such investors' own review of publicly available information and should not rely on the information contained herein.
The information contained in this article has been prepared based on publicly available information and proprietary research. The author does not guarantee the accuracy or completeness of the information provided in this document. All statements and expressions herein are the sole opinion of the author and are subject to change without notice.
Any projections, market outlooks or estimates herein are forward-looking statements and are based upon certain assumptions and should not be construed to be indicative of the actual events that will occur. Other events that were not taken into account may occur and may significantly affect the returns or performance of the securities discussed herein. Except where otherwise indicated, the information provided herein is based on matters as they exist as of the date of preparation and not as of any future date, and the author undertakes no obligation to correct, update or revise the information in this document or to otherwise provide any additional materials.
The author, the author's affiliates, and clients of the author's affiliates may currently have long or short positions in the securities of certain of the companies mentioned herein, or may have such a position in the future (and therefore may profit from fluctuations in the trading price of the securities). To the extent such persons do have such positions, there is no guarantee that such persons will maintain such positions.
Neither the author nor any of its affiliates accepts any liability whatsoever for any direct or consequential loss howsoever arising, directly or indirectly, from any use of the information contained herein. In addition, nothing presented herein shall constitute an offer to sell or the solicitation of any offer to buy any security.
This post may contain affiliate links, consistent with the disclosure in such links.