Please Note: Blog posts are not selected, edited or screened by Seeking Alpha editors.
Summary
My biggest investments and best ideas.
Thank you, Sifting the World members.
Thank you, Eli Hoffman.
Where things Stand
Want a taste of what StW members get? Here's 1/2 of their morning update.
Eastern Bankshares (EBC)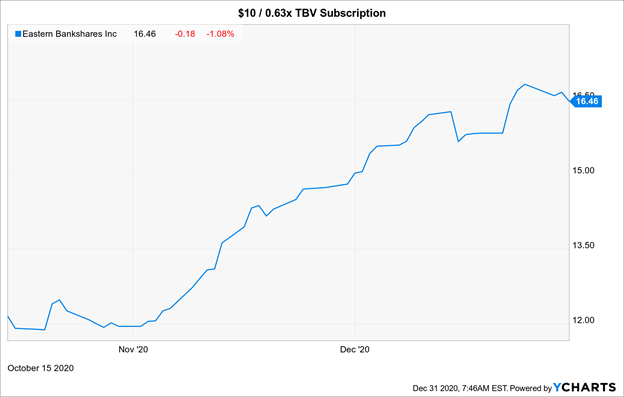 Eastern is my largest position in my personal account and also a position at work. It was a great IPO at 63% of tangible book value and still a good opportunity in the public market. This is worth owning and ignoring; it is a perfect candidate for long-term tax treatment. By that time, they will have announced a dividend, been added to the MSCI and S&P, and started buying back shares. Here's how I described this opportunity to a fellow StW member in early September,
I can say that my intent is to subscribe for 200,000 shares. For two reasons.

1) it is my best current opportunity and has, I believe, a positive expected value. It is probably about flat or so in the bear case. And could be up significantly in the bull case. It will be overcapitalized with the capital we are sending them. So I am comfortable with more exposure than I would otherwise want in a single stock in my personal account.

2) only full subscribers get to check the box to get a call back for more equity if we want it… Before you make the final determination on what makes sense for you (and only you can answer that) I would categorically say that this decision is good and important enough that it is worth organizing available cash and scraping together whatever liquidity is tax-efficient and convenient to scrape together…

And a 10% position is in many ways like a 5% position or so relative to the capital at risk -- at least its fundamental value is quite buttressed by the cash. I will have an oversized exposure… I have mine. My mother-in-law is in this one and I have her fully participating. I hope that works as she doesn't really know anything about it! We are putting ourselves somewhere between meh at supermax and bonanza at min. I bet we get our money back with a few extra bucks for the bother at the supermax and that is the worst reasonably likely scenario. Delighted to try to help; this is my favorite subject.

Although 100% legal, there is something mirthfully conspiratorial and subversive about it. We joined communes that are essentially sitting on oil and when it comes time to divvy up the immense value, not everyone reaches for their fair shares so we get too much. Lovely… I hope and expect that it works out well. I am going to be on my best behavior at home for a little while as we did this 99.5% in my wife's name (I got just the shares from the cash that I had at Eastern). If it really pops and the kids and I are still at home all day, she might make a run for the border.
Bought at $10 in their October demutualization; $17 price alert.
WideOpenWest (WOW)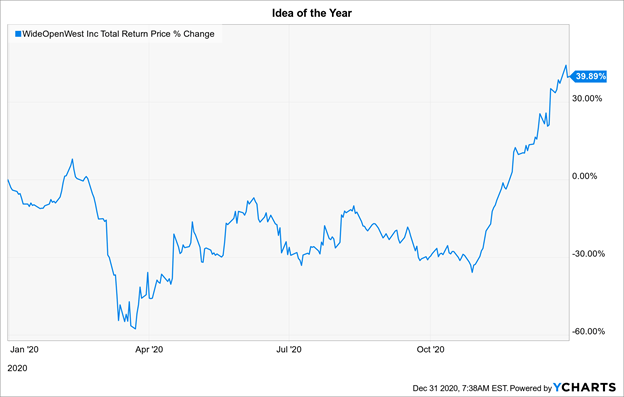 WideOpenWest was our best idea for 2020. It cost under $7 at the time, now cost about $10 and is still worth around its $17 IPO price. I am impatient and things always take longer than I'd like, but that lowers my taxes. This is another great candidate for long-term tax treatment. Buy it, ignore it, and wait for an acquisition someday at a premium to today's price. I'll wake you up when there's news. We are still long and still maintain our original thesis. $12.50 price alert just to stay in touch, with full intent to bump it to $15 then $17 when triggered, probably next year.
Franchise Group (FRG)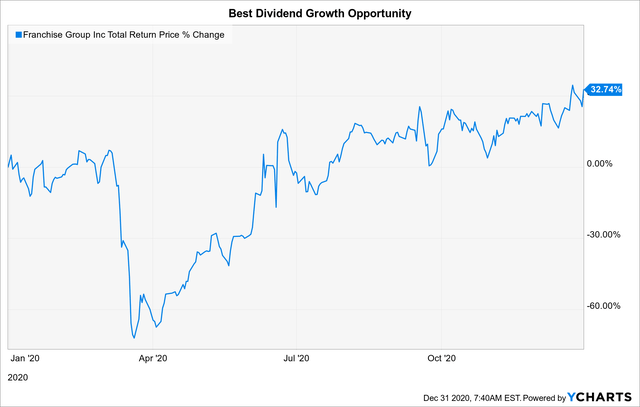 This is 2020's best dividend growth opportunity. It is my second largest position behind OTCQX:BNCC. It is an asset light annuity stream that will steadily grow over time. This month, they bumped their dividend by 50%. Enjoy paying taxes as little as I do? As with each of the above, barring an acquisition at a premium to today's price, this is a long-term investment that should suffer only capital gains taxes of the long-term variety (unless you buy it in your tax-advantaged accounts, then not even long-term cap gains tax). Buy it, ignore it, and keep the dividends. You will stand between a growing annuity stream and an acquisition premium. $40 price alert.
So what?
There is a large quantity (and hopefully great quality!) of ideas on StW. Values, prices, and analysis are in constant flux. But if it all seems like a lot to take in as you try to catch up, the above offers three ways to jump right in to my best ideas and biggest investments – today, they offer positive expected values with high probabilities of safety and profit over the long-term. If you equal weighted them, you'd start with a portfolio that is a decent facsimile of my best ideas. One might own them all and wait for good things to happen in 2021.
My Last Word for 2020
Thanks.
Thank you to my investors. Thank you to StW members. Thank you to my colleagues. Thank you to my incorrigible kids and long-suffering wife.
Thanks for sticking with me through March drawdowns. Thanks for the year end gifts to my favorite charity. Thanks for the reviews. Thanks for indulging my immoderate self-indulgent and quirky obsessions from running across Georgia to $50 of free wine. Thanks for everyone in this for the long-term, for the value investors, the skeptics, the data-driven, the evidence-based, and the debunkers.
My Last Last Word for 2020
Thanks to those we lost in 2020. I began this week by missing my friend Eli Hoffman, Seeking Alpha's Editor-in-Chief. He was a great and good man who showed me endless kindness and patience through the years. I loved our meals at kosher restaurants in New York. We'd share them each time he crossed the Atlantic. Even though he was such a consummate gentleman, he always seemed amused by my subversive side which egged me on in that direction. He was in his own life and decisions religious, pious, and serious -- in the sense of being a serious man with serious responsibilities to work and family -- but with a taste for lighthearted fare too. It would be easy to look at someone in Orthodox appearance and assume one has to be pious and serious too, but he was expert at putting his friends at ease and joking and laughing with each of us no matter how different our lives. I will always be grateful to count myself among them.
2020 was a year that tore me apart from my friends. But in his life, I never felt the distance from Eli, even when he was across an ocean. His was a robust soul. He could handle anything – distance and time apart didn't matter as he could pick up conversations right where we left off. Like a father, he could take a bit of my bragging when I had good news and my gripes when I had bad news and would wait in silence before nudging me back on track. He gave me time. I once hiked up a pretty tall mountain, at least by east coast US standards, while talking through my ear buds the whole way up. Someone less patient would have cut me off a long time ago. Eli had his limits; if I was badly enough behaved to one of his employees, he'd assign me people to apologize to (he was, after all, loyal to them as well). After one too many hike/tirades, he started scheduling our frequent calls with end times as well as start times.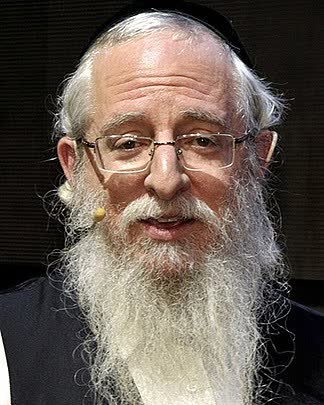 I come from the Christian tradition, yet harbor my deepest attachments to the unsubtle Old Testament virtues of prudence, fortitude, and justice. Eli, a devout Jew, exemplified them all. I struggle with the New Testament. The meek inheriting the Earth, cheek turning, and self-sacrifice are not ideas I easily grasp. I have a sense that there is a lot going on there that I miss. I like making money, running fast, and lifting heavy things – unsubtle, objective, crude even. When the metrics are subtle, I get a bit lost. But I can admire virtues I lack. And in Eli, there is one more to honor and remember – Eli was a man of grace. He didn't treat his friends with mere justice; he offered us grace. We got more than we asked and more than we deserved. I didn't get a chance to come close to paying him back. I still owe him a kosher meal in New York. I probably still owe him an apology or two for overreacting to something trivial. He paid his debts then went so far beyond that. That is what I will always remember.
Thank you, Eli.
Analyst's Disclosure: I am/we are long EBC, WOW, FRG, BNCC.
The information contained on this article is not and should not be construed as investment advice, and does not purport to be and does not express any opinion as to the price at which the securities of any company may trade at any time. The information and opinions provided herein should not be taken as specific advice on the merits of any investment decision. Investors should make their own decisions regarding the prospects of any company discussed herein based on such investors' own review of publicly available information and should not rely on the information contained herein. The information contained in this article has been prepared based on publicly available information and proprietary research. The author does not guarantee the accuracy or completeness of the information provided in this document. All statements and expressions herein are the sole opinion of the author and are subject to change without notice. Any projections, market outlooks or estimates herein are forward-looking statements and are based upon certain assumptions and should not be construed to be indicative of the actual events that will occur. Other events that were not taken into account may occur and may significantly affect the returns or performance of the securities discussed herein. Except where otherwise indicated, the information provided herein is based on matters as they exist as of the date of preparation and not as of any future date, and the author undertakes no obligation to correct, update or revise the information in this document or to otherwise provide any additional materials. The author, the author's affiliates, and clients of the author's affiliates may currently have long or short positions in the securities of certain of the companies mentioned herein, or may have such a position in the future (and therefore may profit from fluctuations in the trading price of the securities). To the extent such persons do have such positions, there is no guarantee that such persons will maintain such positions. Neither the author nor any of its affiliates accepts any liability whatsoever for any direct or consequential loss howsoever arising, directly or indirectly, from any use of the information contained herein. In addition, nothing presented herein shall constitute an offer to sell or the solicitation of any offer to buy any security.
Seeking Alpha's Disclosure: Past performance is no guarantee of future results. No recommendation or advice is being given as to whether any investment is suitable for a particular investor. Any views or opinions expressed above may not reflect those of Seeking Alpha as a whole. Seeking Alpha is not a licensed securities dealer, broker or US investment adviser or investment bank. Our analysts are third party authors that include both professional investors and individual investors who may not be licensed or certified by any institute or regulatory body.