It's all about video (and bots!) for Facebook (NASDAQ:FB) right now. Instagram's Explore section - one of its main content-discovery tools, along with a search engine and a "Trending" section - now contains a "Videos You Might Like" channel, as well as "Featured" channels containing autoplay videos on specific topics (echoes of Twitter's Moments feature).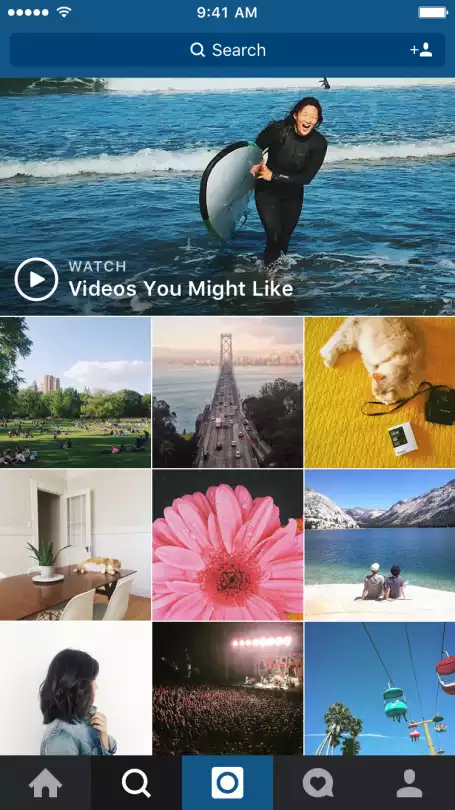 Instagram's Explore section. Now with more video.
Instagram, which topped 400M monthly active users last September, assures its algorithmic approach to delivering content within Explore remains unchanged. "Explore still works the same way: It connects you to posts about your interests from people you don't yet follow. The more you like, the better Explore gets, adjusting to your preferences and showing you more of the stuff you enjoy. And if you see something you don't like, tap 'See Fewer Posts Like This'..." There should be opportunities (if Instagram wants to go in this direction) to include video ads that are relevant to a particular Featured channel.
Last week, Facebook launched a video hub and video search engine for its core app that are accessible through a menu bar tab, and gave its Live video platform a big facelift and a heavy dose of promotions. And two weeks ago, Instagram increased its max video length for all users by 4x to 60 seconds.
This sudden all-out video push isn't exactly an existential threat to YouTube (GOOG, GOOGL), which remains the 800-lb. gorilla of online video still has quite a few things going for it. But it leaves Facebook/Instagram well-positioned to grab more online video share, and with it take a larger portion of the TV ad dollars moving to digital channels.
Disclosure: I/we have no positions in any stocks mentioned, and no plans to initiate any positions within the next 72 hours.