An SSD relying on Intel (NASDAQ:INTC) and Micron's (NASDAQ:MU) 3D XPoint next-gen memory delivered 95,600 input/output operations per second ("IOPS"), or more than 7x that of a tested SSD running on NAND flash memory. Sustained data transfer speeds were near an eye-popping 2GB/second. Moreover, the SSD could've performed even better if its storage interface - based on the next-gen NVMe standard, rather than the older SATA standard - didn't act as a bottleneck.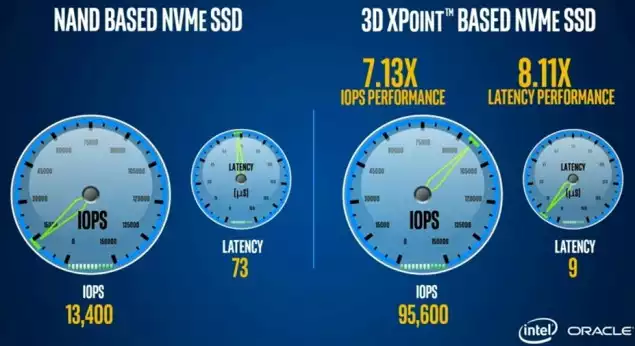 Source: Intel (via WCCFTech)
Intel also claims an 8x improvement in latency relative to a NAND SSD, as well as 1,000x the endurance. SA contributor Stephen Breezy thinks much bigger latency gains can be delivered if 3D XPoint is placed on a memory bus rather than (as was the case here) a PCIe bus.
Intel/Micron argue 3D XPoint is a natural fit for performance-intensive SSD applications such as gaming, high-performance computing ("HPC"), and demanding cloud and analytics applications. They also think it could act as a DRAM substitute in some cases - 3D XPoint won't be as fast as DRAM, but it should be much cheaper and denser, while still being fast enough to address the burgeoning market for high-speed in-memory databases, for which DRAM's cost and density can often be an issue. Further down the line, the technology might also be used to enable consumer devices in which 3D XPoint acts as both the main memory (replacing DRAM) and the storage memory (replacing NAND or hard drives), and are able to boot instantaneously.
The first 3D XPoint shipments - Intel will be selling its drives under the Optane name - are expected later this year. However, Micron has indicated sales aren't expected to ramp until 2017.
Disclosure: I/we have no positions in any stocks mentioned, and no plans to initiate any positions within the next 72 hours.