A WSJ column observes YouTube, though having delivered tremendous ad sales growth, has seen its ability to grab TV ad dollars limited by several factors. Among them: relatively high prices, advertiser concerns about the quality of some YouTube content (they have mixed feelings about cat videos), immature tools for measuring an online video ad's success, and agency structures - many TV advertisers can't move dollars online because online budgets are managed separately.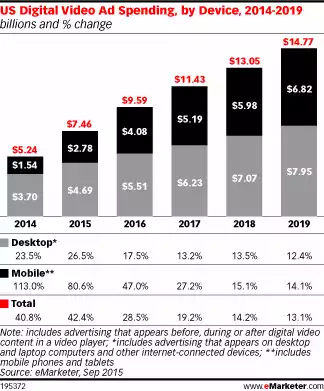 Though challenges remain in grabbing TV dollars, U.S. online video ad spend continues growing rapidly.
The column also notes YouTube still has some advantages over the likes of Facebook (NASDAQ:FB) and Snapchat (CHAT), which are doing their utmost to grab online video share. Content quality concerns are even larger on social media, where viral content tends to be huge, and running ads within a social feed can feel intrusive. It's worth noting here Facebook has been trying to sidestep these issues by running video ads that are standalone Suggested Posts, rather than ads run against videos shared by users. It's also experimenting with including lists of suggested videos - some of the videos in a list are ads, and some aren't - at the bottom of videos shared by users.
YouTube TrueView video ads. Responsible for much of Google's recent paid click growth. Source: Marketing Land.
YouTube video ad growth was a big reason Google (GOOG, GOOGL) reported yesterday its paid clicks rose 29% Y/Y overall in Q1, and 38% on Google sites. The WSJ reported last year YouTube had 2014 revenue of $4B, up from $3B in 2013.
Disclosure: I/we have no positions in any stocks mentioned, and no plans to initiate any positions within the next 72 hours.