The chart below shows a current snapshot of market activity ranging from risk assets to safe havens.  For more information on how these charts are generated and how they can be utilized, click here.

-----------------------------------

Risk Assets vs. Safe-Havens Update, 10/17/2011 4:00pm Close

Note:


I'm not planning on posting these RAVS updates as frequently as I did last week.  I'm finding that in their current state all they manage to do is sum up what is already fairly obvious, and in the middle of the day they actionable information value isn't worth the time it takes to post them.
I do plan to post them at least pre-open and at close (9am and 4pm).  If I can work in a mid-day update I will.


Summary:
Hard to ask for a better example of an equity bear curve.  Nasdaq shows a bit or resilience, no doubt due to large earnings releases after the close and in the near future.
On the volume front it looks like we're generally low compared to daily averages.  Broad commodities and short term bonds were especially light, but mid-caps, oil, and gold all achieved less than half of average volume.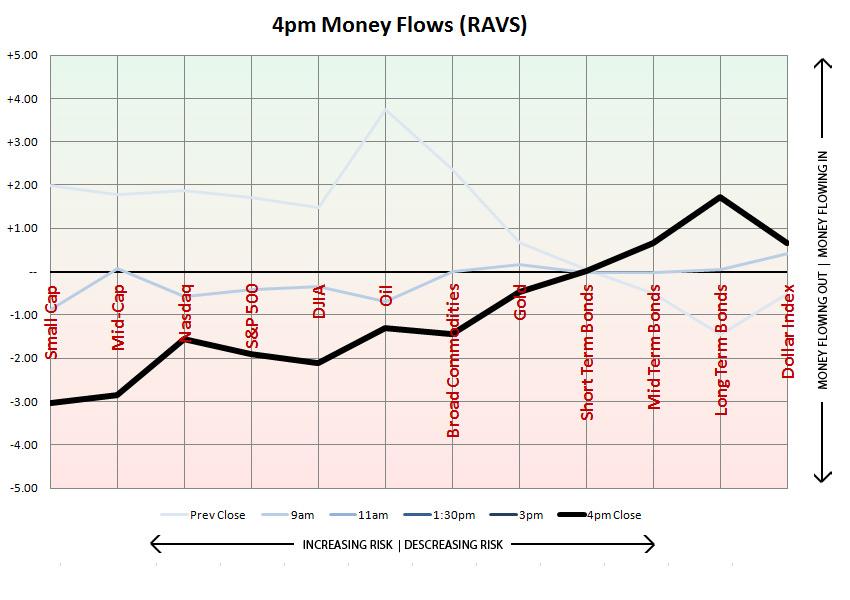 .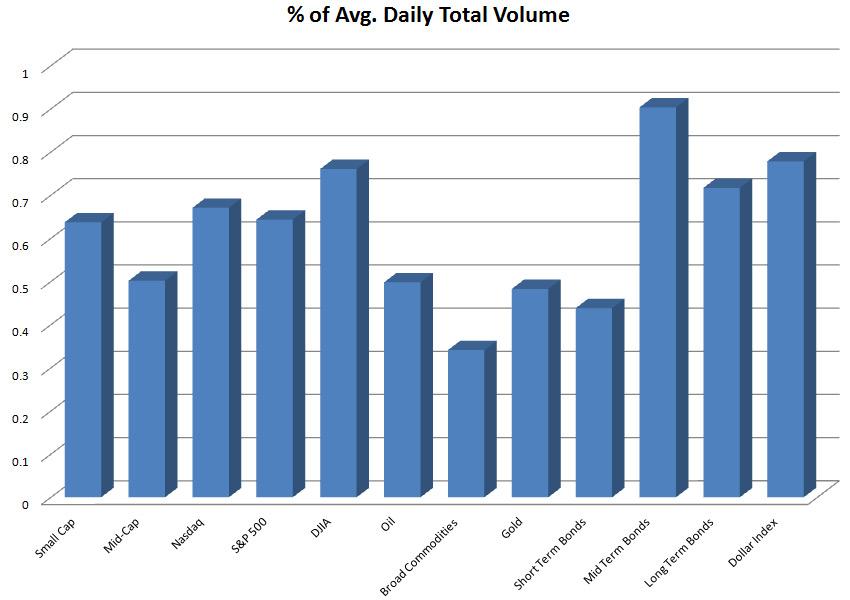 Risk Assets vs. Safe-Havens Update, 10/17/2011 9:00am Pre-Open
Summary:
Very neutral curve this morning with a *slight* bias towards safety.
I've changed my methodology for showing volume.  Instead of comparing to yesterday at this time, I now show volume as a percent of the current daily average (one month SMA).  I feel this shows better what are more truly standouts in terms of volume as the day progresses.  As I amass more data I should be able to indicate what the average volume is *at this time each day,* but not yet.
See the chart below.  Small caps, the Qs, and the S&P appear to be where much of the volume action is at this AM.