Sometimes plans come together so well.
The trade I launched in McKesson call options last Friday in my new Post Drift Trader investment service closed today with a combined gain for 112% - a gain that accrued in one week.
That gain is based on closing the first half of our position on Monday with 50% profit, and then riding the options higher as McKesson shares continued to drift upward over the past week. The shares retreated slightly this morning, triggering the stop-loss we always keep in place to protect as much of our profits as we can.
When the stop-loss triggered, we locked in a gain of 173% on the second half of our position (giving us the 112% combined return I mentioned above).
The strategy I'm using is easy to understand and easy to trade. It's built around corporate earnings reports and the academically rigorous fact that when companies surprise the Street with an earnings beat or miss, the shares tend to "drift" over time in the direction of the initial move. It's a phenomenon borne out by research conducted by a finance professor I used to call on at Rice University when I was writing for The Wall Street Journal.
In testing the theory years later, I built a database of 250,000 data points cataloging market information on the 510 large companies in the S&P 500 and Nasdaq 100 that don't overlap. The result is a deep and rigorous collection of data that details how the shares of specific companies historically and typicall react over various time periods after surprising the Street.
From that data, I can gauge a stock's expected move over certain periods. How much the stock moves is largely irrelevant, because even if it moves marginally, the options will move substantially more.
McKesson is a good example. When I initiated the trade last Friday, McKesson's stock was in the $155 range. When the stop-loss triggered this morning, the shares were in the $163 range. So, the stock moved about 5% during the week. You can see the drift in this chart (i've circled it, from the day McKesson announced earnings through today)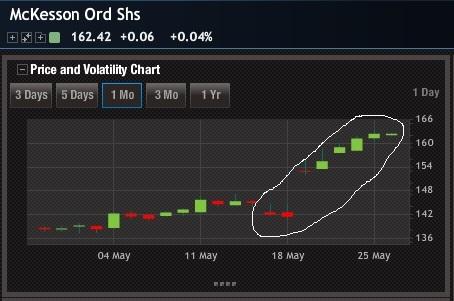 Not a bad return for a stock in just one week.
But in that same period, the options gave Post Drift Trader subscribers a triple-digit gain.
I'm certainly not saying every trade will work out this way. But I am saying that it's possible to make some really nice gains trading options after a company has already reported its quarterly results. The McKesson trade - and the results of 300 beta testers - prove this out.
If you want to know more about Post Drift Trader, or to sign up for a free two-week trial, click here .
Until next time, good trading…
Jeff
Disclosure: I/we have no positions in any stocks mentioned, and no plans to initiate any positions within the next 72 hours.