Gentium S.p.A. (GENT)
Overview
Gentium S.p.A., a bio pharmaceutical company, engages in the research and development of drugs derived from DNA and DNA molecules. The company develops and manufactures defibrotide, an investigation drug based on a mixture of single-and double-stranded DNA extracted from pig intestines for the treatment and prevention of veno-occlusive disease (NASDAQ:VOD). It has completed a Phase III clinical trial of defibrotide for the treatment of severe VOD in the United States, Canada, and Israel; and a Phase II/III pediatric trial in Europe for the prevention of VOD. The company also provides sulglicotide, an active pharmaceutical ingredient that is developed from swine duodenum and is used for healing ulcer and gastrointestinal protective properties; and Urokinase, which is made from human urine to dissolve fibrin clots. It was formerly known as Pharma Research S.r.L. and changed its name to Gentium S.p.A. in July 2001. Gentium S.p.A. was founded in 1993 and is headquartered in Villa Guardia, Italy.
Investment Thesis
GENT has a current Value of $40.73 per share. Therefore, it is overvalued compared to its Price of $52.04 per share. Value is computed from forecasted earnings per share, forecasted earnings growth, profitability, interest. The 100, 200 Day Estimated Moving Average is moving into its true trading range. With the 200 day moving average being only $7.21 off from the close of yesterday's trading session; it seems feasible the stock and the EMA will shortly come in to contact. When this occurs at the $50 mark the stock will be tested and either stabilizes at the 200 day MA or break down. If the stock fails to bounce off the 200 day EMA it will most likely move to a tested support level at $44.
Recommendation
I would suggest taking profits off the table. If the stock does indeed break down, it will do so quickly. At the levels currently, the stock is overpriced, and untested. When viewing the Year to Date chart the break down support levels are at $47.88, and then $43.79. Not until recently has GENT traded at these levels. It is a small traded company with only $45Mm in revenue. I would be a buyer at $44.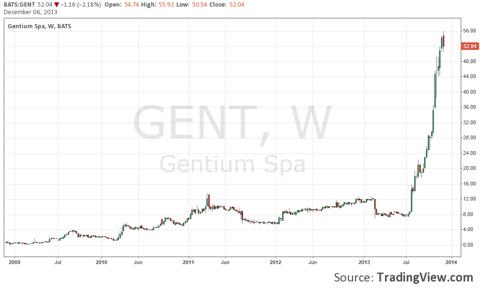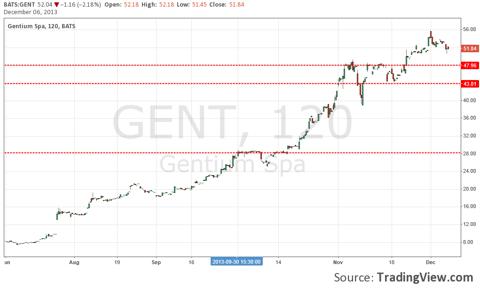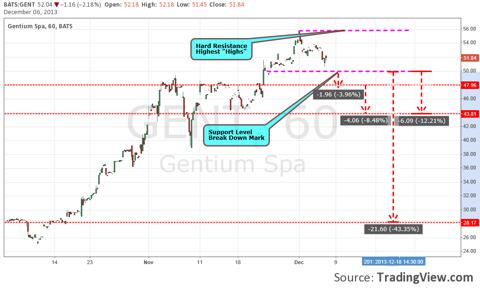 Disclosure: I have no positions in any stocks mentioned, and no plans to initiate any positions within the next 72 hours. I wrote this article myself, and it expresses my own opinions. I am not receiving compensation for it (other than from Seeking Alpha). I have no business relationship with any company whose stock is mentioned in this article.