Sarepta Therapeutics, Inc. (NASDAQ:SRPT)
Overview
Sarepta Therapeutics, Inc., a biopharmaceutical company, focuses on the discovery and development of RNA-based therapeutics for the treatment of rare and infectious diseases. Its lead product candidate is eteplirsen, an antisense PMO-based therapeutic, which is in Phase IIb clinical development for the treatment of individuals with Duchenne muscular dystrophy. The company is also involved in developing treatments that are in Phase I clinical trials for infectious diseases, including AVI-7288 for Marburg virus; and AVI-7100 for H1N1 influenza virus. In addition, it focuses on developing preclinical research product candidates for the treatment of other neuromuscular, infectious, and rare diseases. Sarepta Therapeutics, Inc. was founded in 1980 and is headquartered in Cambridge.
Investment Thesis
SRPT has a current Value of $3.38 per share. Therefore, it is overvalued compared to its Price of $18.98 per share. Value is computed from forecasted earnings per share, forecasted earnings growth, profitability, interest. I was wrong in my previous recommendation. The chart read a rising lows pattern. The stock broke down, and the reason crashed 64% today after the Food and Drug Administration chose not to accept the company's request for accelerated approval of its Duchenne muscular dystrophy drug eteplirsen. Sarepta had hoped to get ahead of competitors Prosensa and GlaxoSmithKline and bring a treatment for the fatal disease to market first, but the FDA argued that Sarepta's phase 2 trials didn't involve a large enough sample size to warrant approval without a phase 3 study. That will push out Sarepta's timeline dramatically, potentially giving its competitors a chance to catch up. The 200 day EMA is crossed over the 100 day, and this indicates a bearish signal. If the stock continues is upward trend it must first move above $20 and simultaneously moving above 100 day EMA. Above that the stock will have room to appreciate until $28, where the 200 day EMA is resting.
Recommendation
If the stock moves into the $20 support range, and can hold that level I would be looking at the December $20 Calls at $1.05, or the January $20 Calls at $2.90. This trade would start to set up a wedge up pattern. If the stock can keep the momentum through the wedge, and test the 200 day EMA, it would likely break out, and continue to appreciate back to its trading highs. If the stock either: A.) continues to trade at $20 with no breakout attempts, I would immediately buy a protective put. The December $20 puts are trading at $2.30, or the January $20 put at $6.50. If the stock does breakdown again it will be hitting support levels at $12, $8.30, or a crash to its base level of $4.00.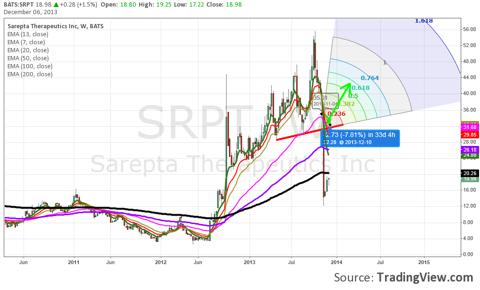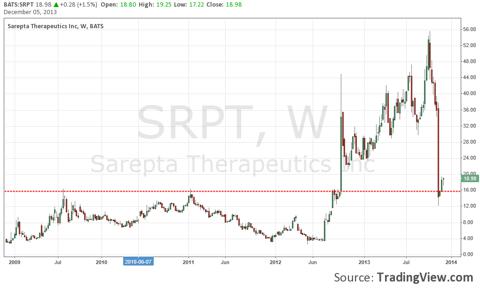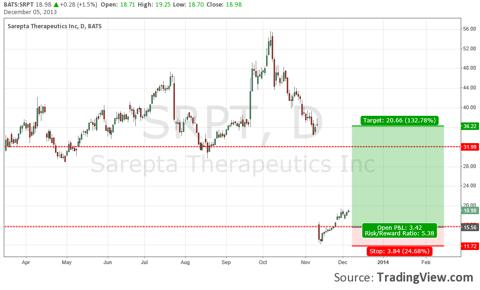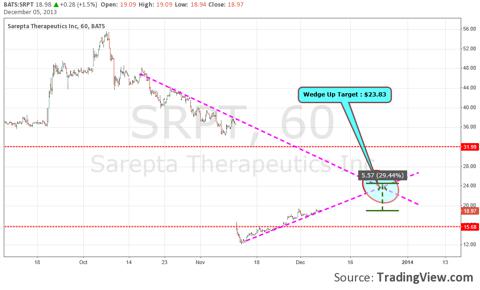 Disclosure: I am long SRPT. I wrote this article myself, and it expresses my own opinions. I am not receiving compensation for it (other than from Seeking Alpha). I have no business relationship with any company whose stock is mentioned in this article.