The Goldman Sachs Group, Inc. (NYSE:GS)
Wall Street's Christmas Gift
Company Overview
The Goldman Sachs Group, Inc. provides investment banking, securities, and investment management services, as well as financial services to corporations, financial institutions, governments, and high-net-worth individuals worldwide. Its Investment Banking segment offers financial advisory services, including advisory assignments with respect to mergers and acquisitions, divestitures, corporate defense, risk management, and restructurings and spin-offs; and underwriting services comprising public offerings and private placements of a range of securities, loans and other financial instruments, and derivative transactions. The company's Institutional Client Services segment provides client execution services, such as fixed income, currency, and commodities client execution related to making markets in interest rate products, credit products, mortgages, currencies, and commodities; and equities related to making markets in equity products, as well as executes and clears institutional client transactions on stock, options, and futures exchanges. This segment also engages in securities services business providing financing, securities lending, and other brokerage services to institutional clients, including hedge funds, mutual funds, pension funds, and foundations. Its Investing and Lending segment originates longer-term loans; and invests in debt securities, loans, public and private equity securities, real estate, consolidated investment entities, distressed assets, currencies, commodities, and power generation facilities. The company's Investment Management segment provides investment products and services, as well as offers wealth advisory services, including portfolio management and financial counseling, and brokerage and other transaction services. The Goldman Sachs Group, Inc. was founded in 1869 and is headquartered in New York, New York.
Investment Thesis
Every year, since around 2002, Goldman Sachs has beaten the S&P 500 index. Has corporate culture at the big bank made this a priority or is it just a goal that the firm wishes to accomplish. Regardless of the purpose the major point is; against the S&P, Goldman DOES NOT LOOSE. In this article there are graphs depicting gains and price ranges from as low as 7% to as high as 20% in comparison to the S&P for the observed trading period. But the main focal point is the last two- three weeks of trading; usually from around December 20th to about January 5th the new week of trading the New Year. Goldman Sachs's stock always has an upward momentum, major pivot off a low, or a noticeable rally. Even from our country's low points in 2009-2010, as you will see in the 2009 graph, Goldman Sachs has been able to come from their lows at the previous week before Monday December 14th through the holiday week past Monday December 28th and Monday January 4th the stock finally retracted.
For 2012, the firm doled out an average of $399,506 in compensation to its (qualified) employees, up 9% from the previous year. By contrast, the "schmoes" (Harper) at JPMorgan Chase, the nation's largest bank by assets, only got an average of $216,928, slightly less than in 2011. According to Larry Doyle of Sense of Cents "Typically, senior executives, traders, and bankers are paid approximately 35% in stock and the stock would vest over a three year time frame. As such, individuals would typically have one year's worth of compensation tied up in the firm. Now most companies including Morgan Stanley, Bank of American, Jp Morgan, and Goldman Sachs have the compensation committee of the company's board determine who qualifies for bonuses and the definition of a material commitment.
This is a interesting process for those who annually try to determine their end of the year bonus. First, implemented would be what is called a "10/20/30/40″ plan (Doyle). Under such a plan, junior employees would receive regular competitive pay, but senior employees would be paid as follows: 10% of annual compensation in cash now; 20% of annual compensation in cash later; 30% of annual compensation in stock now (with a required holding period); and 40% of annual compensation in stock later. "Now" means paid immediately at the end of a compensation period. "Later" means after a period during which a cycle can be "evaluated". During that "evaluation", the firm's compensation committee would perform a "look back" in which it can adjust the award or leave it at a predetermined level of success, in hindsight.
Second, create a "Skin in the Game" plan. When an executive or a senior employee manages a trading or asset-management business which can be measured by its own profit and loss statement, those executives or employees should invest a significant amount of their own capital in that business or fund (Wienberg). Also to help motivate this idea Goldman has boosted Chief Executive Officer Lloyd C. Blankfein's stock bonus 90 percent to $13.3 million. While the bank didn't disclose Blankfein's cash bonus, a person familiar with the payout said his total bonus was about 70 percent restricted stock and 30 percent cash, like last year. On that basis, the total would be about $19 million including $5.7 million in cash.
With the bonus structure being reworked, Goldman's average of $399,506 in salary, bonus, and incentives for 2012 will be shared with a fewer select. The firm typically pays out cash bonuses to employees in February, while stock-based compensation for staff vests over a three-year period. On the call, Mr. Schwartz said Goldman has no plans to increase its bonus deferrals (Doyle). A consolidation in profit sharing will make it much more lucrative for the select at Goldman. The stock price has already seen a 10.88% increase from its triple bottom lows of October. With its continual rising bottom, and open market interest, I have no doubt; this stock will be continuing the trend.
Recommendation
Merry Christmas, and Happy Hanukah, here is my gift to you. Goldman Sachs, will bump up this quarter. The evidence that I have provided in this article will defiantly show that since 2002, Goldman and Santa Clause go hand in hand. If this year you would like a 3-10 point bump in your portfolio here is how to play Goldman. Goldman is currently trading at $167, and will most likely creep towards $166-165, before it takes off next week around the 16th. The options pit is showing all signs to the up side. There are over 8,000 open interests at the January 14 $170 Calls mark, and over 5,000 around the $175 calls. More importantly, there are almost 10,000 contracts stabilizing the price at the January $165 calls. That is extremely important. Minus the Apocalypse, Goldman Sachs, should not see a drop below the stabilizing interest. The stock can certainly retract to the $165 mark, but I would suggest waiting till the stock is in the low $166 range, and buy either the January $165 Calls cheaper than its current price of $6.50. It can possibly be a bargain in the $4 range. Or buy heavily into the January $175 Calls at a steal of $.77 where there is over 11,782 open contracts. I currently have a Long Equity position from November at the lows of $160.49 for this very reason. Goldman had a double bottom at $159.25, and I seriously doubted it would touch it again, so when the price dropped, I bought heavily. I also own the January $170 Calls at $2.49 and currently $3.15 I'm not complaining. I will be purchasing over the next week or so, the January $175 Calls @ $.77 because of the price potential. This play will take patience, and some risk tolerance, but if past performance can guide and suggest; I believe that it will be a Green Holiday season.
Doyle, Larry. "Sense on Cents." Sense on Cents Goldman Sachs Compensation and Bonus Structure Tag. N.p., 1 Oct. 2009. Web. 10 Dec. 2013.
Wienberg, Peter. "Wall Street Needs More Skin in the Game." The Wall Street Journal. N.p., 30 Sept. 2009. Web. 10 Dec. 2013.
Harper, Christine. "Goldman Raises CEO's Stock Bonus 90% to $13.3 Million." Bloomberg.com. Bloomberg, 19 Jan. 2013. Web. 10 Dec. 2013
Philbin, Brett. "Average Goldman Pay: $399,506." The Wall Street Journal. The Wall Street Journal, 16 Jan. 2013. Web. 10 Dec. 2013.
Atherton, Jayne. "Banks' Bonus Bill Soars as Goldman Sachs and JP Morgan Reveal results." Metro Banks Bonus Bill Soars as Goldman Sachs and JP Morgan Revealresults Comments. Metro UK, 17 Jan. 2013. Web. 10 Dec. 2013.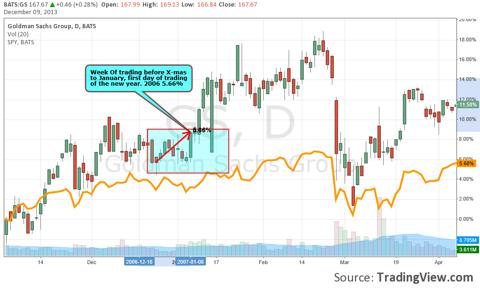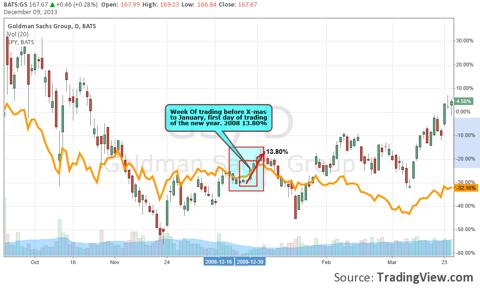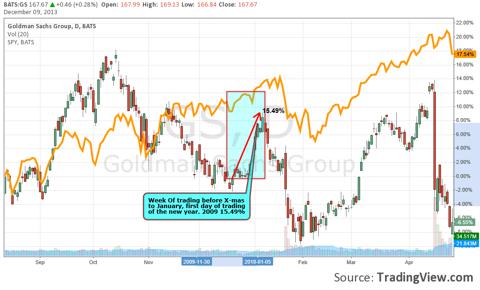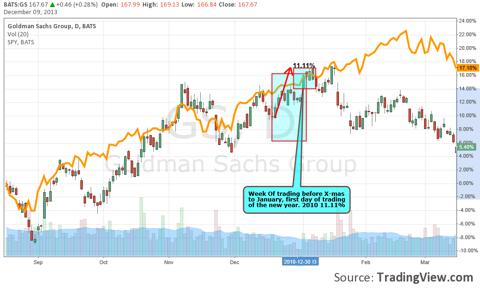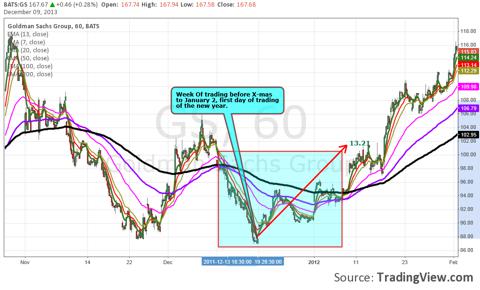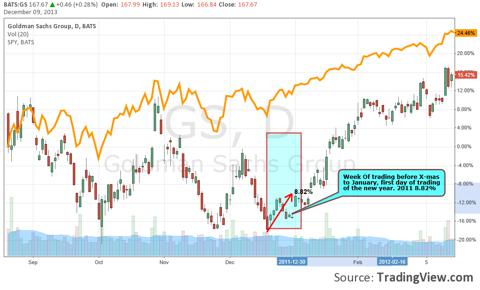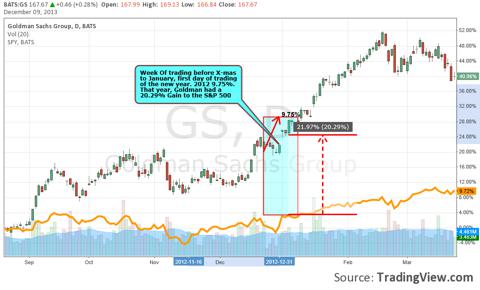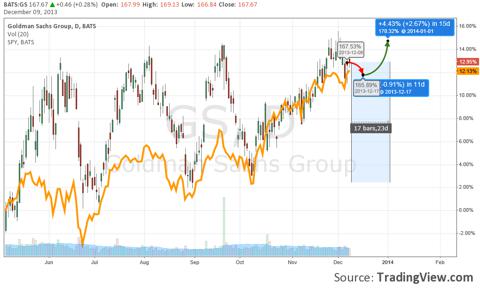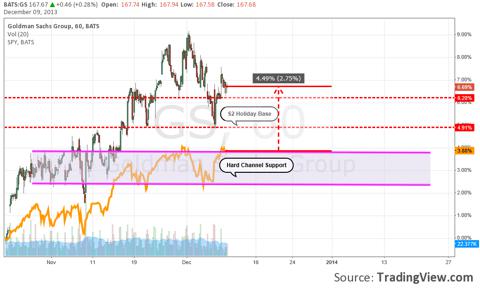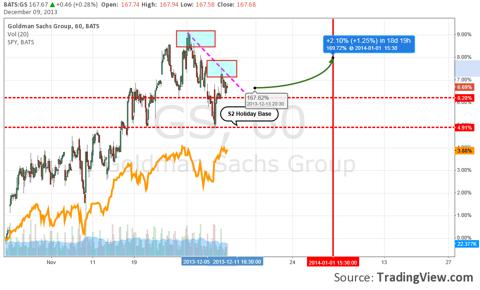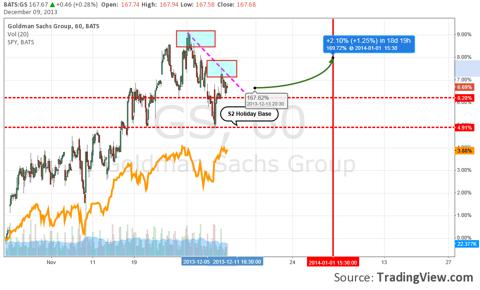 Disclosure: I am long GS.