Tsakos Energy Navigation Limited (TNP)
2014: Recommendations
Overview
Tsakos Energy Navigation Limited provides international seaborne crude oil and petroleum product transportation services worldwide. The company offers marine transportation services to national, major, and other independent oil companies and refiners under long, medium, and short-term charters. Its fleet consists of 49 double-hull vessels, totaling 4.9 million dwt, including 28 product carriers ranging from shuttle suezmaxes to handy size, 19 crude tankers ranging from VLCCs to aframaxes, and 2 liquefied natural gas (LNG) carriers, as well as an option for an additional new building. Tsakos Energy Navigation Limited has a strategic partnership with Statoil ASA for the construction and chartering of series of Aframax Crude Tankers. The company was formerly known as MIF Limited and changed its name to Tsakos Energy Navigation Limited in July 2001. Tsakos Energy Navigation Limited was founded in 1993 and is based in Athens, Greece.
Investment Thesis
TNP has a current Value of $8.01 per share, therefore, it is undervalued compared to its Price of $6.10 per share and has a current Stop of $5.31 per share; this is $0.79 below TNP's current closing Price. The forecasted Earnings Growth Rate of 31.00%, a forecasted EPS of $0.15 per share a P/E of $40.67. TNP pays an annual dividend of $0.20 per share which is an annual yield of 1.34%. It currently has a sales Growth estimation of 9.00% per year which should equal $7.00 earnings per share in 2014. Reported the strategic partnership with Statoil, an international energy company headquartered in Stavanger Norway (NYSE: STO) for the construction and chartering of five to nine purpose built Daewoo Aframax crude tankers with a contract term of five to twelve years including options. The gross revenues from this project are expected to range between minimum $250 million to approximately $1 billion. To date, TEN's fleet, including the LNG Maria Energy and five Aframax crude oil tankers under construction, consists of 54 double-hull vessels, a mix of product tankers, crude tankers and LNG carriers, totaling 5.5 million dwt. Of these, 28 are product carriers ranging from DP2 shuttle suezmaxes to handy size, 24 are crude tankers ranging from VLCCs to Aframaxes, and two are LNG carriers. The Company holds also an option for a 174,000 cbm tri-fuel LNG carrier to be exercised no later than January 31, 2014.
Recommendation
Looking out for a long term trade in 2014 TNP is a moderately inexpensive trade. The stock is moving steadily off its lows, following the 200 Day EMA. It has its hard support line at $3.23. It has already broken past its first resistance mark at $5.26. Its next point of resistance isn't until $8.63, which gives the stock an additional 69% profit. If TNP can make it past R2 ($8.63) it will have another 62% increase to its major resistance at $13.75. If by the end of 2014 TNP appreciates to $13.75 and begins to tap the barrier the stock will already have accumulated 228.03%. This would make it one of 2014's best unknown winners.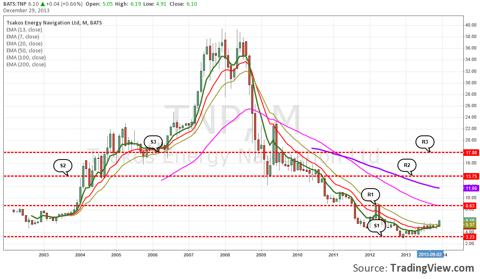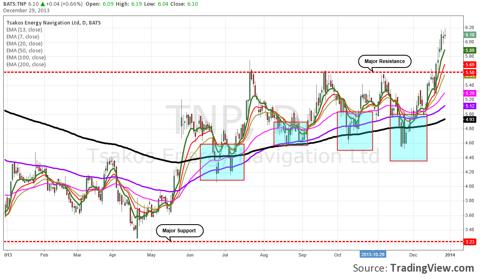 The Fresh Market, Inc. (TFM)
2014 : Recommendations
Overview
The Fresh Market, Inc. operates as a specialty grocery retailer. The company offers various perishable product categories, including meat, seafood, produce, deli, bakery, floral, sushi, and prepared foods; and non-perishable product categories, such as traditional grocery and dairy products, as well as bulk, coffee and candy, beer and wine, and health and beauty products. As of March 12, 2013, it operated 130 stores in 25 states of the United States. The company was founded in 1981 and is headquartered in Greensboro, North Carolina.
Investment Thesis
TFM has a forecasted Earnings Growth Rate of 11.00% and has a forecasted Earnings Per Share of $1.45. TFM has a P/E of 28.14; also to note TFM has a Sales Growth of 13.00% per year which should equal $30.09 per share for 2014. The fresh market announces further expansion in Florida Specialty Grocer Signs Lease for Store in Lake Mary Lake Mary, Fla. (December 19, 2013) - The Fresh Market continues to grow its chain of specialty grocery stores and has signed a lease for a new location in Lake Mary, FL. According to Jim Cramer of CNBC "It does raise questions about the gross underperformance of The Fresh Market (TFM), which declined 16% in 2013. Unlike Whole Foods, it doesn't appear as if Fresh Market could withstand the pricing pressure from conventional retailers like Wal-Mart and Kroger (KR), which have scaled their organic offerings. That said, I would bet my money that the company will but up a better fight in 2014. And if I'm looking for a relative outperformance, Fresh Market should be at the top of the list, likely at the expense of Natural Grocers."
Recommendation
Holding this beaten down stock would be worth the risk. The stock has already contracted to its MS (Major Support) mark at $38.75. It has repetitively bounced along this bottom slowly grabbing traction. Because this stock does have volatility, it would not be surprising if the stock makes run for its resistance marks at $50.31 , $52.75 , $55 and if the stock maintains the traction it could attempt to reach its previous highs at $62.70. This stock is a note worthy investment because the chart shows the trading range this stock historically trades in. It has a probability, and directional indicators. It would be an early trade in the New Year, and a more probable profit generator.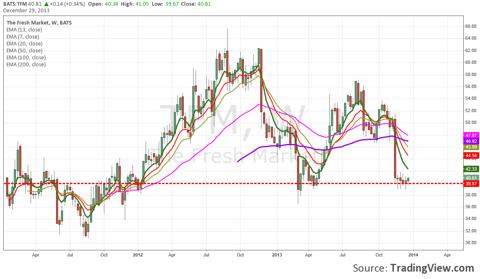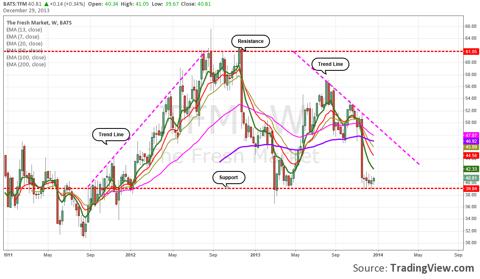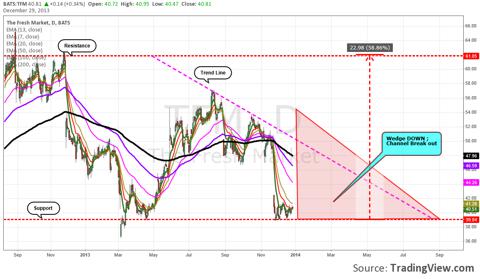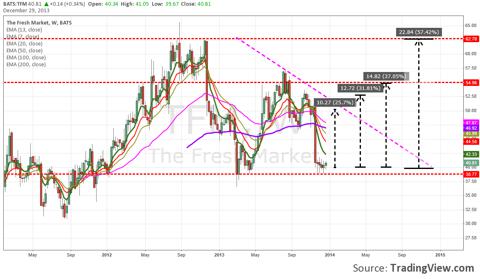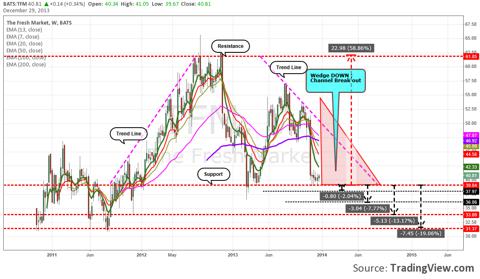 Disclosure: I am long TNP, TFM, .