I recently was invited to try the new zero commission trading app Robinhood. The platform is currently only on the iPhone or iPad, and remains invite only while they continue to test it. The full version and public access is set to be available in early 2015. Before then I thought I'd share my two cents and give a little overview of my experience using it.
For starters, currently I'm with TradeKing and apart from not being able to trade on foreign exchanges I am pleased with it. $4.95 trades are nice and cheap compared with other brokers and the platform it has enables good research/info. The mobile app is where I do most of my trading and I really like it.
What is nicer than $4.95 trades though? $0 trades.
When I was first invited to Robinhood I had to fill out an application, which was quick to do, and within about 2 days I was approved for an account. After being approved I easily, and I cannot emphasize how easy it was, transferred a little money from my checking account. It gave about a dozen or so options to choose from and any large bank was connected to it. I signed into my online banking through the app and transferred the money. It took little more than 3 minutes to do so. The use of mobile banking connected with Robinhood is a great feature and something I liked being able to do it all on my phone.
Since I am just trying out Robinhood I just transferred a few dozen dollars into the account and started browsing the app. The first little neat feature I noticed is that the app appears black when the market is closed and white when its open. I say "neat" because its not like this is a helpful feature, anyone investing should know what time the market opens and closes. When you first open the app it has your account balance and a small chart displaying your account value over the day, week, month..ect. It has all pretty standard things such as a search bar, ability to add things to your watchlist, and also big buttons labeled 'BUY' on each securities page.
On the quote pages they give very simple information, such as 52 week range, dividend, and market cap. Other than that the app is very basic and does not involve much info. I would have to say that I don't see this as a huge negative because personally I don't use my TradeKing account that much for research. I do however utilize my Tradeking for streaming data, something the Robinhood app is not nearly as good at.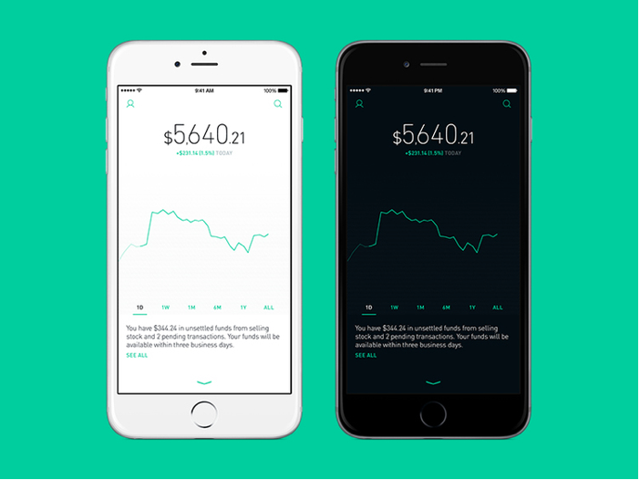 (Source: Robinhood Website)
After playing around for a little I decided to place a small trade to get a even better feel for it. The orders can only be regular market or limit orders and while placing the trades there is not much to it. I put in a market order for some shares of Zynga (NASDAQ:ZNGA) and within moments the order was executed. I eventually sold this position and once again paid nothing to make the trade. Again the trade was made lightning fast. I would say that is and should be typical of all brokerages though.
So by now, if you haven't already looked into it, you might be asking how they will make money. The commisions and fees schedule goes over this. Foreign trades range anywhere from $35-$50 and then obviously a bunch of miscellaneous things like receiving paper statements or mailing checks. Will that actually offset the differential of whatever cost for free trading I don't know. I sure wouldn't be surprised if in due time they drop the $0 commissions and start charging.
The final verdict would be that the whole idea is interesting but obviously it lacks in everything. In the current version you can trade on only the NYSE,NASDAQ, and AMEX. I would guess they will add foreign exchanges by the time they fully launch.
In conclusion, the app and zero commission is definitely attempting to target a different set of investors than the traditional group. The group they are targeting is more than likely younger people that don't have a brokerage account already. Do I see this as being a market share issue and problem for the big guys like eTrade (NASDAQ:ETFC), Charles Schwab (NYSE:SCHW), Scottrade, TD Ameritrade (NASDAQ:AMTD), Interactive Brokers, and Fidelity (NYSE:FNF)? The simple answer would be no. They don't in my opinion target the same crowd and I don't think people will be running to switch. I'm certainly not moving my main account from TradeKing to Robinhood right now.
The app is downloadable in the app store now and you can apply for early access here.
Additional disclosure: I still currently have 2 invites to test it out. If you have interest in trying it out you can direct message me on SA. Note that I only have 2.