Sigmaflex is leading manufacturer of Flexible Metallic bellows & Hoses since 1991. It manufacturers & exports metallic bellows expansion joints. One of our Managing Director Mr. Rajendra is Post Graduate in mechanical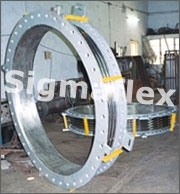 engineering from USA . He has worked in USA from 1974 -1990. He has broad experience in Engineering, Designing & Assisting in construction of refineries & chemical plants all over the world. He is technically expert in the field of Piping Flexibility.
Sigmaflex has fully equipped facilities for designing and manufacturing of single ply or multiply Piping Bellows Expansion Joints, Square and Rectangular Ducting Bellows, Soft Instrumentation Bellows and S/S Flexible Hose assemblies.
Our line includes wide variety of types, sizes and configuration which are used in literally thousands of applications.
Types of Bellows Manufactured: Single, Double, Universal, Hinged, Gimble, & Pressure Balanced Expansion Joints.
Expansion Joints are designed on Computers to ensure economical design with maximum cycle life. Quality Control is one of our most important functions along with design and manufacturing. All material used must pass rigid quality standards. Products are produced by experienced craftsmen and tested during each stage of production.
Bellow is D.P. Tested before and after formation. Upon completion, each finished assembly is Hydrostatically /Pneumatically tested to ensure it will withstand all designed requirements. We can also offer third party inspection.
We have solid record of accomplishment for quality and product reliability, satisfied customer base all over India & have acquired contracts from clients in following sectors:
POWER AND ATOMIC ENERGY,
CEMENT, CHEMICALS, PETROCHEM AND FERTILIZERS,
METAL, INDUSTRIAL AND ENGINEERING,
PHARMA, AUTOMOBILES, PAPER, SUGAR AND DAIRY PRODUCTS
EXPORT: UAE, Saudi Arabia, Singapore
For more information, please visit http://www.sigmabellows.com/