Latest Eye Research a Sight to See
Developments in the field of ophthalmology, both for new treatments and new delivery systems on a wide variety of diseases and injuries, are coming at a tremendously fast clip.
For investors interested in companies with near term catalysts and genuinely marketable products, we offer the following focused sketches of two companies with explosive near term potential.
Funding Secured through Licensing
Advanced Cell Technology (ACTC) is a $150 million outfit by market cap that's currently developing stem cell therapies to treat two serious eye conditions, Stargardt's Macular Dystrophy and Dry Age Related Macular Degeneration (Dry AMD), conditions which affect 30 million people worldwide and whose market stands in excess of $28 billion.
Clinicals for both of the company's treatments are in the open phase I/II stage, in which safety and tolerability will be tested. The treatment itself involves transplanting human embryonic stem cells beneath the retina of afflicted patients. And early results are encouraging.
Published in Britain's Lancet in January, the latest data reported patients from both tests demonstrating markedly improved vision.
Full results aren't expected until mid-summer.
Should Investors Wait?
Judging by the extraordinary jump in share price after the Lancet article was printed, we feel it best to be in position before the summer's data release, which will no doubt be a major catalyst. ACTC climbed nearly 80% (!) after the above-mentioned preliminary findings were published.
European clinicals are also ongoing for ACTC's treatment, and have just passed the halfway mark on that continent. Regulators there have already granted the company's AMD cure 'orphan' status, offering it improved protection from competition and reduced regulatory fees going forward.
Separately, investors should also be aware that Advanced Cell Technology possesses over 380 patents and patent applications that protect its proprietary cell therapy and regenerative medicine treatments, which it licenses on both an exclusive and non-exclusive basis to at least five commercial and academic biotech and pharmaceutical concerns. Cash flow from these agreements pays for all the company's clinicals and appears to offer them ample, ongoing coverage for daily business operations.
It also raises the prospect of an outright purchase of ACT by one of their senior partners, most formidably among them, CHA Bio and Diostech, a Korean firm with a market cap of $760 million with which ACT has a number of collaboration agreements.
Action Required: share purchases should be made in the coming weeks, before official findings are released.
Strong Commercial Ties
InSite Vision (OTCQB:INSV) possesses a patented technology called DuraSite that allows for the sustained delivery of a variety of drug treatments for a number of vision disorders. The delivery can be customized to a patient's specific needs and is also compatible with all topical medicinal applications, whether solutions, gels or suspensions. Essentially, the DuraSite technology keeps the medicine on the patient's eye for longer than normal eyedrops, the latter of which are regularly swept away (and thereby rendered ineffective) via excessive blinking and/or tearing.
The company's next earnings announcement is expected on May 7th, and it could also prove explosive.
What's on the Docket?
Two items.
First, the latest phase III clinical trial for 'BromSite', InSite's treatment for reducing pain and inflammation in post cataract surgery patients, was just concluded a few weeks ago. Published results show that BromSite achieved its dual goals of 1) administering lower doses of bromfenac (by way of its DuraSite technology) and 2) achieving superior pain and inflammation reduction vis-à-vis the current market leader, Allergan's (NYSE:AGN) Acular LS. BromSite now moves to its second phase III trial that, if successful, will result in full regulatory approval for the treatment.
Second item - funding for the company's ongoing operation is now in hand. As the BromSite trial concluded, InSite also made a deal to sell royalties on future sales of its Besivance treatment for conjunctivitis to SWK Funding LLC for up to $16 million in remuneration.
In our view neither of these two items have found their way into the stock price, as InSite appears inadequate to the task of effectively informing investors of its progress, both corporate and, to a lesser degree, clinical.
Despite strong corporate partnerships with Bausch and Lomb (which currently markets Besivance globally), and Merck (NYSE:MRK) (which distributes the company's AzaSite treatment for bacterial conjunctivitis), investors have not awakened, in our estimation, to the value chained within the company, nor do they yet possess the confidence that, despite its small market cap, this company has legs.
This may be the reason that management has recently floated the idea of conducting a reverse stock split, a measure that certainly 'raises' the share price and makes it more palatable to the NASDAQ and/or AMEX for uplisting, but that may, in the end, may not be in investors' best interest, and indeed, may scare off as many as it hopes to attract.
The debate has gained some small scale media attention, and that, too, we contend, is bad for the stock - indeed may be responsible for the latest sideways motion.
Here's INSV's chart.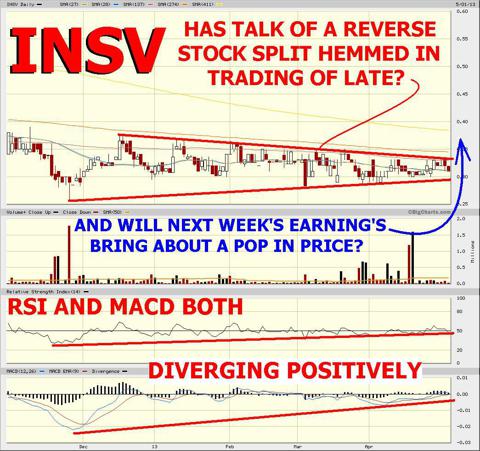 We have never been fans of reverse stock splits nor the companies that propose or execute them. And if the above chart is any indication, it could well be that a media based discussion of such a split is stifling a genuine move in the shares. Certainly the tightening wedge is indicative of a potential pop higher, and the positive divergence on both RSI and MACD indicators also tells a story of building momentum.
It appears to us that next week's earnings announcement could well light the fuse.
Disclosure: I have no positions in any stocks mentioned, and no plans to initiate any positions within the next 72 hours. I wrote this article myself, and it expresses my own opinions. I am not receiving compensation for it (other than from Seeking Alpha). I have no business relationship with any company whose stock is mentioned in this article.