I often wonder what it will take to make the average investor believe that there are liars, thieves, and cheats throughout the markets, perhaps on a grander scale than can be found in banking and politics. As I noted last week, being an investor at the moment, is extremely painful.
But fear not, this should all come to an end, in my opinion, about late September or early October of this year. My time frame does assume of course, that the liars, thieves, and cheats in the markets, expect to have a joyful holiday season.
Portfolio Commentary
The Wax Ink portfolio dropped 0.8% for the week. By comparison, the Dow was down 1.7%, the Nasdaq was down 0.8%, the S&P 500 was down 1.1%, and the Russell 2000 was down 0.2%. This puts the weekly equilibrium change for the indices at -1.0%
Year to date, the Wax Ink Portfolio is up 6.9%, while the Dow is up 4.9%, the Nasdaq is up 12.6%, the S&P 500 is up 7.6% and the Russel 2000 is up 6.6%, putting the annual equilibrium changes for the indices at +7.1%, or 0.2% better than the Wax Ink portfolio.
Market Commentary
It seems that the good and honorable bankers at JPMorgan Chase and Company (NYSE: JPM) may have failed to completely understand their own hedging strategy. As a result those good and kindly bankers, took it in the old wazoo for $2 billion.
Shortly after this announcement, I mean...JPM sort of had to say something, along comes Bill Gross, the managing director of PIMCO who bill themselves as "Your Global Investing Authority" and tells the world what a well run institution JPM is.
Are you kidding me? Had the fine upstanding bankers at JPM found a way to cover up the loss, that's exactly what they would have done!
Meanwhile as the stock price of JPM heads for the crapper, financial websites are going bonkers. Article after article mention the $2 billion in trading losses and then mention the stock price and then tell folks that now is the time to take a position in the stock and on and on and on.
Are this people idiots? Sure the price of JPM may well rebound, even passing its all time highs. But my what a gamble the individual investor is taking? What happens the next time a group of bankers try and develop a hedging strategy they don't understand? Will it lead to profits or losses?
I mean at the end of the day these cats are bankers, not investors. And because they are bankers, they will lie, cheat, steal, or just generally do whatever it takes to make the world believe they are above reproach, that they are the single most brilliant investors of all time.
In my experience I don't believe I have every met a banker without an ego so huge it would fill the heavens and blot out the sun.
Yet on website after website, in article after article, individual investors are repeatedly being told that now is the time to buy JPM.
Never mind that not one single website, not one single article, not one single chartered analyst, not one single anything, has the foggiest idea what the intrinsic value of a share of JPM actually is. Heck they don't even know what the tangible value of JPM is! Yet they all seem to think, know is the time to buy.
I wish those investors that buy shares of JPM with no idea of the what the stock's reasonable value is, the very best of luck. Over a lifetime of investing, they are certainly going to need all of the luck they can get.
Equity Commentary
Holdings in the Wax Ink portfolio again charged toward mediocrity with aerospace and defense contractor, the subject of a recent recommendation Ducommun, Inc. (NYSE: DCO), down 8%, trucking company Arkansas Best Corporation (Nasdaq: ABFS) down 8%, e-commerce facilitator Verifone Systems, Inc., (NYSE: PAY), down 6%, and building materials company Griffon Corporation (NYSE:GFF), down 6%.
Rising from a squatting position this week were rubber and plastics company Myers Industries, Inc. (NYSE: MYE) up 7%, and paper company Schweitzer-Maudit International, Inc. (NYSE: SWM) up 3%.
Political Commentary
Every week I try and include some bit of humor regarding politics at the end of my post. Over the course of the past few months that has become as difficult as watching CNBC. I admit, to me politics is without equal when it comes to boring, since in the end it almost always come down to which politician can out promise the other one. How dull.
As a result, I have decided to stop putting down my few observations about politics, devoting the space instead to the sounds bugs make when they fart in a pond.
Wax
To enlarge the portfolio, please click on the image.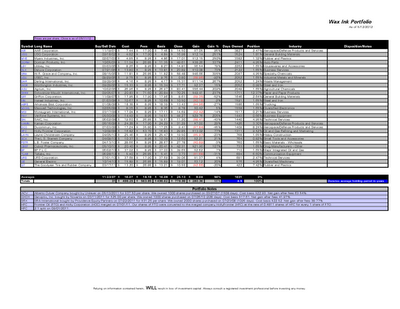 Wax Ink is comprised of individual investors, NOT licensed or registered with ANY government agency. Please obtain the advice of a registered investment professional BEFORE considering any information obtained from this site.