The market continues to be less than cooperative for the average investor, as it reacts to rumblings in the eurozone over the economic troubles of Greece, Spain, and to a lesser degree, Portugal.
Additional economic data playing into the direction of markets were durable goods orders which were just shy of expectations, and initial jobless claims, which were as expected, but still high at 370,000.
Portfolio Commentary
The Wax Ink portfolio was unchanged for the week. By comparison, the Dow was up 0.7%, the Nasdaq was up 2.1%, the S&P 500 was up 1.7%, and the Russell 2000 was up 2.5%. This puts the weekly equilibrium change for the indices at 1.9%.
Year to date, the Wax Ink Portfolio is up 0.5%, while the Dow is down 0.5%, the Nasdaq is up 6.8%, the S&P 500 is down 4.7% and the Russel 2000 is down 2.1%.
Over the past several weeks I have made the case that it may be a good time to add shares to existing positions. Such was the case in the Wax Ink portfolio during the past week, as I added shares to our position in electronics manufacturer Maxwell Technologies, Inc. (Nasdaq: MXWL).
Also as I noted in a recent article, I added a new position to the portfolio, taking a position in electronics manufacturer, International Rectifier Corporation (NYSE: IRF).
Market Commentary
The Facebook (Nasdaq: FB) IPO has done more to scare away new individual equity investors than anything that comes to mind since the great market implosion of 2000.
Actually the villain, or in this case villains, at least to me, are none other than bankers that took the company public and underwrote the IPO.
I admit that I don't like bankers, the very word makes me want to throw up. Bankers should never be trusted to do the right thing, for the right thing is simply is not a part of their business DNA. What matters to bankers are profits and they don't really care who gets crushed in the process as long as there are profits to be had.
The Wall Street Journal had the story. It seems that while investment bankers and lead underwriters Morgan Stanley were trying to prevent the stock price from sliding into the crapper, fellow assistant underwriters at Goldman Sachs and JP Morgan were lending out shares so the stock could be shorted.
Nobody at Goldman or Morgan cared that they had helped take the company public, that people across America were putting their life savings into this IPO based on the road show they and Morgan Stanley had put on, or that shorting the stock would place a huge financial burden on Morgan Stanley who was trying to keep the stock price propped up.
Nope, none of that mattered, none of it at all. What matter were profits.
In the end, there will be some uproar, a few candidates for one office or another, assuming the profits they made via the Facebook IPO cannot come to light, will call for hearings and investigations and blah, blah, blah.
But in the end, nothing will be done, no hearings will be held, the term accredited investor will never come up, and the quest for profits at any cost by America's banks, will continue. In short, it will be business as usual.
Equity Commentary
Holdings in the Wax Ink portfolio once again found it tough going in the markets with electronics manufacturer Maxwell Technologies, Inc. (Nasdaq: MXWL),down 14%,business equipment company Verifone Systems Inc., (NYSE:PAY) down 13%, and aerospace company AAR Corporation, (NYSE:AIR), down 6%.
Attempting sustainable upward moves were building materials company USG, Inc. (NYSE: USG, up 12%, industrial metals company USEC, Inc. (NYSE: USU), up 11%, oil and gas company, Holly Frontier Corporation (NYSE: HFC), up 8%, and small tools company The L.S. Starrett Company (NYSE: SCX), also up 8%.
Political Commentary
There is no political commentary this week and I could not find the sounds of bugs farting in a pond, but I did find the sounds of politicians at a cookout, doing what politicians do best.
Wax
To enlarge the portfolio, please click on the image.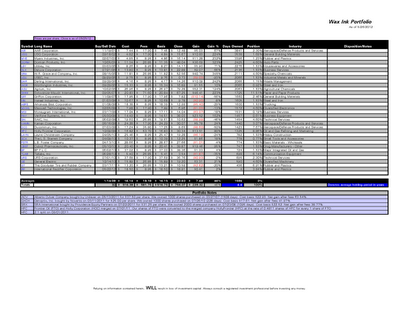 Wax Ink is comprised of individual investors, NOT licensed or registered with ANY government agency. Please obtain the advice of a registered investment professional BEFORE considering any information obtained from this site.
Disclosure: I am long MXWL, IRF, PAY, AIR, USG, USU, HFC, SCX.