The market surge that has gone on the past several weeks got a dose of reality this week, with investors seeing first hand how full of crap the Fed actually is, how unimportant Greece's economy is to the rest of the world, and how little anyone cares if Spain falls off of the earth or not, provided their soccer team is spared.
Portfolio Commentary
The Wax Ink portfolio was down 1.5% for the week, with an average share price of $23.07.
By comparison, the Dow was down 1.0%, the Nasdaq was up 0.7%, the S&P 500 was down 0.6%, and the Russell 2000 was up 0.5%.
Year to date, the Wax Ink Portfolio is down 1.8%, while the Dow is up 3.5%, the Nasdaq is up 11.0%, the S&P 500 is up 6.2% and the Russel 2000 is up 4.6%.
Market Commentary
The market focus this week was on the Fed, and the continuation of Operation Twist, another hair brained government scheme intended to drive down the interest rates on 10-year Treasuries. This lowered interest rate on 10-year Treasuries will, at least in prayer, keep the cost of lots of things low, since the interest rates to lots of things are tied to the 10-year Treasury.
What a nice concept, and one that would probably work if so many people were not out of work, and if there were demand for the things tied to the 10-year treasury.
Personally, I think it's all a big load of pig dung. If Twisted Operation were actually working, why did the Fed revise GDP growth from 2.4% to 2.9% down to 1.9% to 2.4%?
Also, if Operation Slobbermeclean were actually doing anything, why did annualized home sales decline in May by 70,000 units? And why did the U.S. Flash Manufacturing PMI fall to its worst level in the past 11 months?
If Operation Twistmeup really were all that dynamic, and was actually having some positive impact, [keyword coming up] why did the Philadelphia Fed Survey fall to its lowest level since August 2011, and why has China's PMI report shown economic contraction for the past eight months, since most of the worthless crap we buy in this country now comes from China?
Could it be there is simply lackluster demand [keyword] for the goods and services ties to the 10-year Treasury? And what about the credit scores of the consumers Operation Twistmystones is supposed to impact? Does anyone with two brain cells that connect, really believe with the economy in the current state of ruin that it is in, demand for much of anything is expanding?
Yet the markets, and as Karl says, my point 401k, all hinge on the actions of two mental giants, namely potential ex-con Timothy Giethner, and Ben Affleck look-a-like,Ben Bernanke.
No wonder the average worker in this country has only $25k in savings and $14.5k of credit card debt, since not one thing that the government has done, at least that I could find, has created one permanent job.
Equity Commentary
The Wax Ink Portfolio didn't exactly have a banner week last week, but there were a few holdings that ended the week with blissful smiles including airplane repair company AAR Corporation (NYSE: AIR), up 16%, payday lender Moneygram International, Inc. (NYSE: MGI) up 7%, and custom processed steel company Worthington Industries, (NYSE: WOR), up 7%.
The holdings needing the most air freshener for the week included uranium producer USEC, Inc. (NYSE: USU), down 15%, oil and gas company BP plc (NYSE: BP), down 5%, and electronics manufacturer Maxwell Technologies, Inc. (Nasdaq: MXWL), down 3%.
Political Commentary
Every week I continue to be amazed not by our political system, but instead by our politicians.
Reading some of the banter among Nancy Pelosis, Karl Rove, and Harry Reid reminds me of things that can happen in the deep blue sea.
Things that, well...we simply never consider.
Wax
To enlarge the portfolio, please click on the image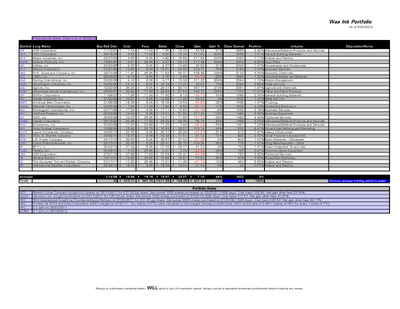 Wax Ink is comprised of individual investors, NOT licensed or registered with ANY government agency. Please obtain the advice of a registered investment professional BEFORE considering any information obtained from this site