It seems that all of the Eurozone banking folks got together and figured out a way for Spain's banks to be directly recapitalized using bailout money, and that the recapitalization will not add to the country's sovereign debt.
In other words, Spain's banks get money for nothing and their citizens get screwed for free!
It was this news, this knowing, that sent the markets into the throws of orgasmic abandonment of Friday. Couple this event with the news of a potential 120 billion euros that would be used to boost the lending capacity of the European Investment Bank, and it was indeed as orgiastic an event for traders and investors as has occurred in many a moon.
Portfolio Commentary
The Wax Ink portfolio was up 3.6% for the week, with an average share price of $23.91.
By comparison, the Dow was up 1.9%, the Nasdaq was up 1.5%, the S&P 500 was up 2.0%, and the Russell 2000 was up 3.0%.
Year to date, the Wax Ink Portfolio is up 1.7%, while the Dow is up 5.4%, the Nasdaq is up 12.7%, the S&P 500 is up 8.3% and the Russell 2000 is up 7.8%.
Market Commentary
The market focus this week was once again on the Euro and the Spanish debt crisis. Once the news was out that for the next 87 seconds or so, 87 seconds being the attention span of a Wall Street investor, Spain's debt was going to be increased domestically, happy days were here and traders seemed to care about little else.
While good for commodity traders, the dollar weakened during the week, meaning oil prices increased since oil is traded in dollars. Again, while good for traders, this will mean higher pump prices for consumers. As you would expect, with the orgy in full swing thanks to Spain's debt news, few seemed to notice this upward move in oil prices.
The other event that happened during the week was the revision of the May Consumer Sentiment Index from 74.1 downward to 73.2. All of the wizards that live in Oz had all expected the index to remain unchanged.
One other tidbit that happened on Friday was the rebalancing of portfolios for the end of the quarter reports to shareholders. It seems that portfolio managers can invest client's money in absolute garbage for most of the quarter, but as long as the quarter ends with the portfolios holding stocks mother would be proud of, investors are happy.
Once again few investors seemed to notice this news, and even fewer seemed to pay any attention to it.
I guess the greater question is why should investors really care about such global events, especially when it comes to their retirement savings?
Now that Google has invented Porn Glasses investors will be able to watch themselves get screwed anytime they want to!
Equity Commentary
The Wax Ink Portfolio benefited nicely from the news about Spain, with airplane repair company AAR Corporation (NYSE: AIR), up 12%, building materials maker USG Corporation (NYSE: USG) up 16%, custom processed steel company Worthington Industries, (NYSE: WOR), up 18%, and aerospace communications and computer company Ducommun, Inc. (NYSE: DCO) up 24%.
Certainly all was not in complete harmony with payday lender Moneygram International, Inc. (NYSE: MGI), down 7%, and drug maker Cubist Pharmaceuticals, Inc. (NYSE: CBST), down 5%.
Political Commentary
It was a very sad political week this past week, at least for me, learning that the government now has removed my basic right to decide for myself, thanks to the Supreme Court's decision on Obamacare.
I also found it interesting that the with the Supreme's decision, the government now has the right to further invade my privacy by determining if I really do have health insurance.
My god!! There really are no true Patriots left in America today.
Wax
To enlarge the portfolio, please click on the image.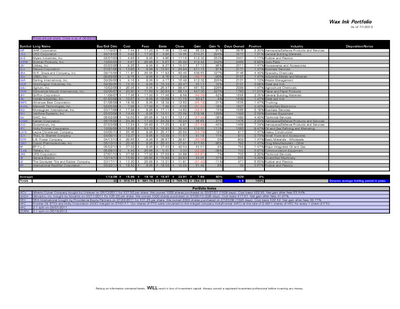 Wax Ink is comprised of individual investors, NOT licensed or registered with ANY government agency. Please obtain the advice of a registered investment professional BEFORE considering any information obtained from this site.