I said last week..."the economy sux, employment is almost non-existent, and the expansion of credit, the driving force required to get the economy moving again, simply cannot happen.". I had no idea that I would be called the things I was called. Hell I had no idea those were real words!
Just because what's his name, the head dude for the European Central Bank says the ECB will take all necessary steps to preserve the Euro and the markets rallied, does not change what I said at the outset.
The economy sux and without a continued expansion of credit, which I don't believe can physically happen, cats like Mario Draghi are just blowing hot air. If you dear reader, want to be dumb enough to believe all of the horse crap, then sniff on, since you obviously enjoy the smell.
Portfolio Commentary
The Wax Ink Portfolio moved up 2.0% thanx to Mr. Draghi, ending the week with an averaged share price of $24.96.
By comparison, the Dow closed up 2.0%, the Nasdaq was up 1.1%, the S&P 500 was up 1.7%, and the Russell 2000 was up 0.6%.
Year to date, the Wax Ink Portfolio is up 6.2%, while the Dow is up 7.0%, the Nasdaq is up 13.5%, the S&P 500 is up 10.2% and the Russell 2000 is up 6.2%.
Market Commentary
Once again the markets surged based solely on the comments of a fool, in this case the head of the Eurpopean Central Bank, Mario Draghi. In the end, because he is a banker, he will do nothing and his comments of earlier in the week will become nothing more than fodder for the
CNBCs and Bloombergs of the world.
By the time the dust settles Greece will declare bankruptcy and default entirely on their debt. Once other countries like Spain and Italy see that Greece was able to borrow even more money now that they don't have any debt thanks to the bankruptcy, the likelihood that this default method will be used by other countries, will increase, creating massive economic hardships on the rest of the world.
If that sounds far fetched, then what is the alternative?
Let's say that my scenario is what ends up happening. What happens to these countries? The only way to right their ship is to increase tax collections, and the only way to do that is to put people to work, and the only way to do that is to increase demand for goods and services. The increase in demand will require business to increase output, but because the bankers of those countries made one piss poor decision after another, they cannot extend credit to businesses so they can expand and increase their output because their banks have no liquidity.
And so here we are, Americans once again seeing our savings reduced to cow crap because banks and bankers are the same the world over...greedy.
We went through all of this in 2008 and 2009. As we watched, millions of Americans became jobless. Before we could blink, lifetimes of savings were turned into cream corn. And as if those things were not enough to experience, we were able to witness in stunned disbelief the bankers that created the mess, receive bonus payment after bonus payment.
The same thing is happening in Europe, and in my opinion, the results will be the same there as they were in America.
Once again, Americans will see their hard earned savings, the savings that have now rebounded, to 2008 levels, again turned to cottage cheese. We will witness yet again, the slowing of the American economy to the point that Americans are once again put out of work, and we will watch once again as banker after banker receives a bonus check.
Equity Commentary
For the past several weeks, we have considered changes to the Wax Ink Portfolio. With the late week rally, we decided then was the time to execute. As a result, we have halved our position in specialty paper maker Schweitzer-Mauduit International, Inc., (NYSE: SWM), and closed our positions in glass tableware maker, Libbey, Inc. (NYSE: LBY), printer and office products company Deluxe Corporation (NYSE: DLX), payday lender, Moneygram International, Inc. (NYSE: MGI), and oil and gas company BP, plc. (NYSE: BP).
As a result of these portfolio adjustments, our average position allocation is now at 4%, approximately 1% above our normal target. Over the coming weeks we will be looking for opportunities to lower the average position allocation through a series of position reductions and new acquisitions.
In the mean time I wish I could say that the portfolio is running like a well oiled machine. But anybody that follows this space knows what a load that would be.
In the end even with the portfolio adjustments of the week, I have decided that I suck when it comes to portfolio management. I should probably stop doing it, but because I have sucked at it for so long, what the hell, in for a penny in for a pound.
Portfolio stocks moving up during the week were specialty chemical maker WR Grace and Company, Inc. (NYSE: GRA) up 8%, rubber and plastics company Goodyear Tire and Rubber Comapny, (NYSE: GT), up 8%, communications equipment maker Tellabs, Inc. (Nasdaq: TLAB), up 7%.
Portfolio stocks that didn't do squat during the week were building materials maker USG Corporation (NYSE: USG), down 16%, metals processing company Worthington Products, Inc. (NYSE: WOR), down 3%, and rubber and plastics container maker Myers Industries, Inc. (NYSE: MYE), down 2%.
Political Commentary
The week in politics saw the opening ceremony of the 2012 Summer Olympics. That of course in and of itself, is not really terribly political.
The political part comes in the form of condom use, where athletes will reportedly use 70,000 condoms over the next two weeks.
Politicians are now trying to figure out how to screw their constituents that many times in a week, since they already screw them that many times in a month.
Wax
To enlarge the portfolio, please click on the image.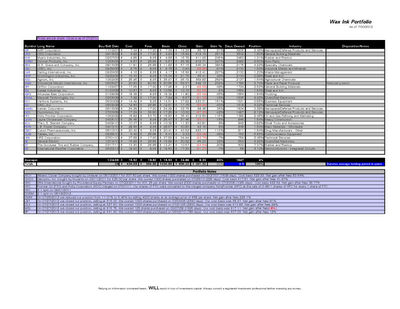 Wax Ink is comprised of individual investors, NOT licensed or registered with ANY government agency. Please obtain the advice of a registered investment professional BEFORE considering any information obtained from this site.