My guess from last week that Mr. Draghi, head of the European Central Bank, wouldn't be able to hit his ass with his hat when it came to saving the Euro and all things European, came to pass this week.
It seems Mr. Draghi has no authority without Germany, and Germany is pretty pissed at Europe at the moment over the austerity thing, which is why I figured Germany would adopt the attitude "you grew it, you chew it", and offer Mr. Draghi no assistance.
Apparently that's what happened. Fat baby one, Germany, decided not to play with fat baby two, the rest of Europe.
Couple that with the new French wizard trying to tax the crap out of the wealthy, and it just adds to the misery that Europe is about to go through.
Here's the French deal as I understand it.
The new French head guy is ready to taxes the wealthy French in order to make up a budget shortfall. But wealthy people didn't get to be wealthy by wealthy sitting on their on their stones.
So before the tax increase went in to effect, the wealthy French moved their wealth offshore. There's a shocker. France now has virtually no wealthy folks with French wealth they can squeeze. So the French government and the French people have once again, screwed themselves.
I really don't mean to harp, but again I remind both of the readers of this space, the economy sux and without a continued expansion of credit, which I don't believe can physically happen, cats like tinkle town tapper Mr. Draghi and our own tutu turning tunist Mr. Bernanke, are just playing with themselves.
So please folks, stop looking to the government for assistance in moving the markets. Politicians are just like bankers, and the only thing they both know how to blow, is hot air.
Portfolio Commentary
The Wax Ink Portfolio was down 0.6%, ending the week with an averaged share price of $24.72.
By comparison, the Dow closed up 0.2%, the Nasdaq was up 0.3%, the S&P 500 was up 0.4%, and the Russell 2000 was down 0.9%.
Year to date, the Wax Ink Portfolio is up 5.2%, while the Dow is up 7.2%, the Nasdaq is up 13.9%, the S&P 500 is up 10.6% and the Russell 2000 is up 6.4%.
Market Commentary
Once again the markets surged on absolutely nothing. As expected Mr. Benanke, head of the Federal Reserve Bank did nothing when it came to Quantitative Easing (QE3). Not to be upstaged by America, the head of the European Central Bank, Mario Draghi, also did absolutely nothing. Two peas in the same pod, or so it would seem.
But then, utterly without warning, somebody somewhere decided that maybe Europe had it right, maybe the best course of action was to stick Europe's collective hand into Germany's pants and see if they could make them smile.
Slowly, grudgingly at first, that hand insertion technique seemed to build a flame in the European markets, a flame that transferred to the U.S. markets.
Again without warning, the announcement came, as did Germany I would guess, Knight Capital Group had been saved for just the day, and unemployment wasn't as bad as everyone thought, even though the unemployment rate had increased from 8.2 to 8.3%.
So as Europe readied for their evening news, the U.S. markets shuddered and shook, achieving nirvana at the end of the session.
The problem with such a massive explosion of lust and greed, is that generally, the only ones that enjoy the ride are banks, since they use everyone else's money to make money for themselves. Guess what? Friday was no exception.
U.S. market listings of European financials rose, with the Deutsche Bank and Barclays gaining 10.0% and 6.1% respectively. The surge in European banks followed a significant drop in Italian and Spanish bond yields, with the Italian 2-yr bond yield declining to 3.11% and the Spanish 2-yr bond yield declining to 3.91%. Meanwhile, between the American sheets, Morgan Stanley gained 5.8%, and Citigroup gained 4.7%.
In the end, Germany got off, Europe got off, and banks got off. Me? I just got screwed.
Equity Commentary
As I noted last week, we made changes to the Wax Ink Portfolio, halving our position in specialty paper maker Schweitzer-Mauduit International, Inc., (NYSE: SWM), closing our position in glass tableware maker, Libbey, Inc. (NYSE: LBY), printer and office products company Deluxe Corporation (NYSE: DLX), payday lender, Moneygram International, Inc. (NYSE: MGI), and oil and gas company BP, plc. (NYSE: BP).
Friday's collective market orgasm, while enjoyable for the day, did little to erase the portfolio losses that occurred during the prior four sessions. Still, there were a few bright spots with auto parts maker Dorman Products (Nasdaq: DORM) up 12%, building materials and communications company Griffon Corporation (NYSE: GFF) up 7%, and rubber and plastics company Goodyear Tire and Rubber Company, (NYSE: GT), up 6%.
Portfolio stocks that refused to swallow were trucking company Arkansas Best Corporation, (Nasdaq: ABFS), down, 16%, uranium recycler USEC, Inc. (NYSE: USU), down 14% and now being priced for bankruptcy by the markets, and rubber and plastics container maker Myers Industries, Inc. (NYSE: MYE), down 7%.
Political Commentary
The week in politics saw Romney aides telling reporters to shove it, Nancy Pelosi endorsing Kentucky Fried Chicken, Harry Reid implying that he knows if Mitt Romney actually paid taxes when he doesn't, and Mitt Romney responding to Mr. Reid's assertion that he actually knows anything, anything at all, by telling the Senator to either put up or shut up. To bad Romney aides didn't tell reporters to put up or shut up. Just like it's too bad that Romney didn't tell Reid to shove it. But I guess that wouldn't have been liars poker as usual, would it?
Wax
To enlarge the portfolio, please click on the image.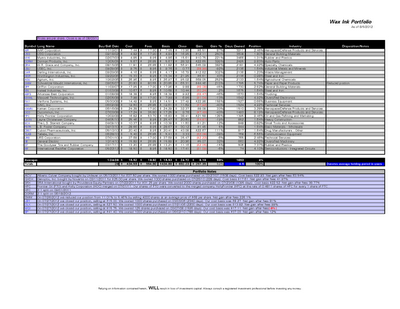 Wax Ink is comprised of individual investors, NOT licensed or registered with ANY government agency. Please obtain the advice of a registered investment professional BEFORE considering any information obtained from this article.