The markets benefited this week as ECB head Mario Draghi finally got the kiss from German Chancellor Angela Merkel he had been hoping for. I seriously doubt that this will lead to any future bedroom antics, but you really never know what conversations are held between the sheets.
So now that the ECB and Germany have consummated their relationship I wonder how the dollar will react, since over the course of the last several weeks, the dollar has been fairly strong against the euro. My wonder is that dollar valuations will start to fall which will cause the price of crude oil which is traded in dollars, to rise.
This in turn will add unnecessary pressure to our economy, causing employers to once again postpone hiring even though consumer debt appears to be expanding.
For some weeks I have been saying that the economy sux. At the same time I have been bitching about the inability of the economy to grow, and I have said the reason for this is because there simply is no place for credit to expand. As I have now demonstrated, I can bitch and moan with the best of them.
Obviously I am no economist, and recent announcements on consumer credit would seem to fly in the face of the various things I have penned in this space. In the end however, I stand by the things I have said. The economy is in the crapper, the American worker, those lucky enough to actually be working, continue to be squeezed, working more for less money, while energy and food prices continue to increase.
Add to these events that QE3 if implemented, will fail just as QE1 and QE2 did, and that both of the liars running for President are simply inept. Given these things to consider, what conclusion other than we are basically screwed, can individual investors make?
Portfolio Commentary
The Wax Ink Portfolio was up 1.9%, ending the week with an averaged share price of $25.19.
By comparison, the Dow closed up 0.9%, the Nasdaq was up 1.8%, the S&P 500 was up 1.1%, and the Russell 2000 was up 1.7%.
Year to date, the Wax Ink Portfolio is up 7.2%, while the Dow is up 8.1%, the Nasdaq is up 16.0%, the S&P 500 is up 11.8% and the Russell 2000 is up 8.2%.
Market Commentary
Market reactions were the third party in the investing menage a trois this week, with ECB head Mario Draghi and German Chancellor Angela Merkel being the other two. Certainly the shuddering climax of the later two participants benefited those individual investors that had managed to stop playing with themselves long enough to realize there is some benefit to simply being in line for a romp in the hay.
Eventually, as it always does with clandestine rendezvous, the passion began to cool, leaving only minimal conversation along with promises to call. By the end of the week, the markets had pretty much begun to stagnate. My gut says that the coming week is going to be one of profit taking, so I anticipate another thunder bucket ahead.
To me, this all begs the question of what is next for the average investor as they do their best to overcome the bullcrap told to them by the bankers and politicians of the world?
Many investors have pinned their financial hopes on China with its 4.1% unemployment rate. Investments there may indeed work out, with China suggesting earlier this week that The People's Bank of China will alter monetary policy in the latter half of the year, bolstering China's economy with improved credit. I just hope that the returns those investors may be counting on are actually there when they get ready to recover them.
Regardless of what China does or does not do, investors need Europe. But what is left that Europe can do to right their economic ship? Certainly a mix of austerity programs, bond sales, and reductions in government spending would be a huge help. Bond sales aside, I simply don't believe austerity programs and government spending cuts will ever happen.
But without very large government spending cuts and austerity programs, all bond sales will amount to is a tax increase, assuming the governments decide not to default on this new debt, since taxes are the principal way governments have to repay debt.
Greece, with it's 23% unemployment rate and government debt that is 165% of GDP, has decided that austerity programs suck and rejected them. No tax increases or government spending cuts there.
France with its 10% unemployment rate and government debt that is 86% of GDP, has decided to tax wealthy income earners, never considering that those wealthy income earners and their wealth would simply move. No tax increases there.
Spain with its 25% unemployment rate and government debt that is 69% of GDP, is completely clueless. The country is totally dependent on the Draghi-Merkel tet-a-tet to remain solvent. Talk about scary! Anyway, no tax increases there.
America with its 8.3% unemployment rate and government debt that is 102% of GDP, is placing all of its hopes and dreams on two boobs, neither of which knows crap from applebutter when it comes to putting Americans back to work. My god! To think one of them will actually be our next president is nauseating.
Equity Commentary
Back in April I wrote an article for Seeking Alpha titled Ducommun Is Underpriced - Is It Time To Buy?. At the time I contributed the article, the price of the stock was $11.77. Shortly after the article was published, the stock price dropped like a turd from a tall horse.
Needless to say, it is times like that those that individual investors wish they had never heard the words individual equities.
But life goes on and this week aerospace company Ducommun, Inc. (NYSE: DCO) was up 35%, ending the week at $13.18.
Also enjoying upticks this week were uranium recycler USEC, Inc. (NYSE: USU), up 13% to close the week at $0.87, and rail and pipe manufacturer L.B. Foster Company (Nasdaq: FSTR) closing the week at $32.93, up 9%.
Speaking of turds falling from tall horses, the portfolio has managed to hang on to several road apples. Down for the week were Verifone Systems, Inc. (Nasdaq: Pay) down 9% to close the week at $34.00, steel wire maker Insteel Industries, Inc. (Nasdaq: IIIN) closing the week at $9.76, down 7%, and polymer products maker Myers Industries, Inc. (NYSE: MYE), down 1%, ending the week at $15.43.
Political Commentary
Finding something for this space that pokes fun at all political parties and all politicians has become increasingly difficult. It's not that there aren't things that happen every week, it's that they seem to be the same things. And since politics is boring enough when things are unique, how boring would it be to repeat the same boring things again and again?
I did notice that Rush Limbaugh had commented that he felt he should get a finder's fee for introducing the Obama campaign to women's activist Sandra Fluke. Needless to say, I think Rush Limbaugh is pig. Apparently at least one other person agreed with me.
Wax
To enlarge the portfolio, please click on the image.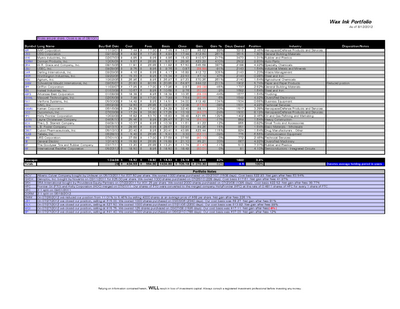 Wax Ink is comprised of individual investors, NOT licensed or registered with ANY government agency. Please obtain the advice of a registered investment professional BEFORE considering any information obtained from this site.