The Brazilian stock market has experienced a sharp decline in value since the start of 2018 significantly underperforming emerging market and S&P500 benchmarks. While the whole emerging market group has declined significantly in 2018, Brazil had been hit harder until a sharp rally occurred in early October as election results indicated a favorable shift toward the far-right wing candidate, Jair Bolsonaro.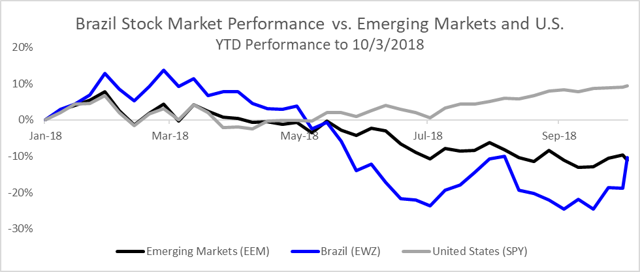 Source: Yahoo Finance
It is unclear how much of the underperformance in Brazil is a result of cyclical external factors or deteriorating fundamentals specific to Brazil. In the U.S., strong corporate earnings and the expectation that monetary policy will continue tightening are incentivizing investors to reallocate investment to less risky assets. At the same time, slower global growth (i.e. China) is driving down commodity prices hurting major commodity exporters such as Brazil. These two factors are likely the culprit of the broad sell off in emerging markets.
However, the market is placing a higher discount on Brazil due to country specific idiosyncrasies that make Latin America's largest economy vulnerable in this rising rate, low commodity price environment. These country specific factors include a high and increasing debt load driven by growing fiscal deficits and uncertainty about the next president's ability to pass obvious, but politically challenging economic reforms to reduce spending on pensions and increase tax revenue.
While Brazil finds itself in a difficult situation, the market has heavily discounted Brazilian stocks which may provide an opportunity for the patient investor. The risk off behavior of investors and lower commodity prices are cyclical factors that are expected to eventually normalize benefitting commodity exporting emerging market economies. However, Brazil faces structural issues surrounding how the government manages and allocates resources that require significant change compared to the status quo. For example, if meaningful pension reform is not achieved, the current system will result in an incremental deficit of 0.3% of GDP each year per year. Eventually, the government will face the decision on how to reduce the deficit with inflation being the most likely outcome (as opposed to raising taxes or default.) The importance of economic reforms to the Brazilian investor cannot be understated and the results of the upcoming elections will provide more clarity on the likelihood of the necessary reforms.
Now, that we have context around the drivers of the sell off and risks going forward, is the Brazilian stock market an attractive investment opportunity? When our team conducts a top-down analysis, we breakdown value into its three components: Corporate Earnings (Cash Flow), Earnings Multiple and Currency Exchange. Below, we take a historical perspective to understand where these value components stand today in Brazil.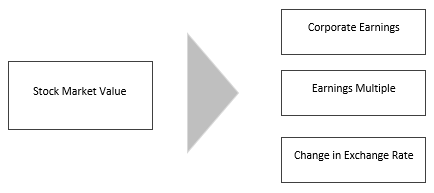 Brazil appears to be early in its business cycle
Corporate earnings are the most fundamental driver of long-term stock market valuation. As a proxy for corporate earnings trends, we track Brazil GDP against its long-term real growth rate. The logic assumes that corporate earnings are a steady share of GDP over the long-term (i.e. if GDP increases, corporate profits should increase at a similar rate). In the below chart, we track Brazil GDP against a conservative 2.5% long-term growth rate (vs. 4.1% from 1961-2017) to understand where Brazil is in the business cycle. Even with the low GDP growth that has persisted in Brazil since 1980, the current level of GDP is moderately lower than the long-term trend predicts. Additionally, Brazil experienced a severe recession in 2015-16 with only a modest recovery in 2017-18. It is difficult to determine when the economy will normalize, but once conditions are more favorable (e.g. global monetary tightening, commodity prices and political risk) the economy should have plenty of capacity to grow above its long-term growth rate. Again, economic reforms would provide a significant boost and it is promising that pension reform, improving government budget management and corruption have been addressed by all presidential candidates (though to varying degrees).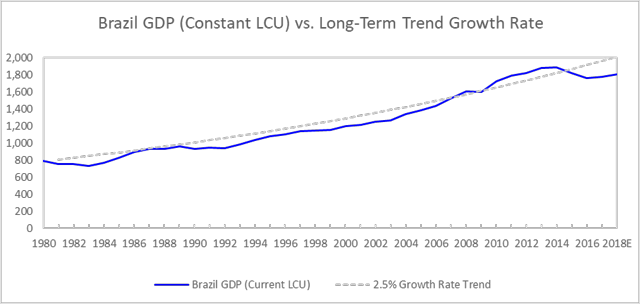 Source: World Bank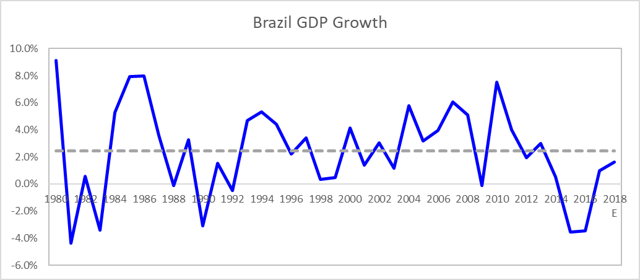 Source: World Bank
The market is heavily discounting Brazilian stocks
The market is certainly factoring in increasing risk in the emerging market and Brazilian economies into their investment decisions based on historical Forward P/E ratios (sourced from Bloomberg). The MSCI Brazil Forward P/E ratio has declined significantly in 2018. Based on Forward P/E data back to 2006, the average Brazilian P/E ratio is ~11 vs. the current ratio of 9.7 (as of 9/21/28). Currently, the valuation is approaching undervalued territory (> 1 standard deviation below average P/E). Additionally, the valuation spread between the U.S. stock and emerging market indexes is significantly above the average spread, but this has been the case since circa 2014. Finally, the Brazilian index is significantly discounted relative to emerging markets. In sum, the market is clearly discounting the Brazilian market at historical levels.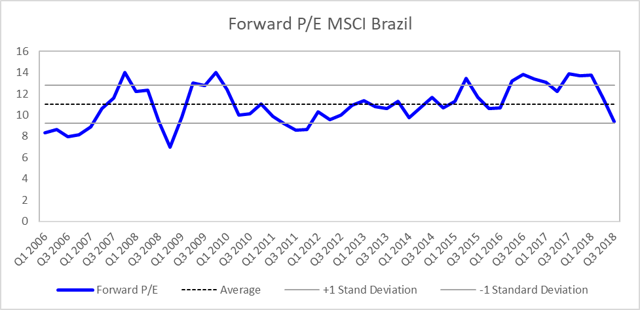 Source: Bloomberg (data provided through 9/21/2018)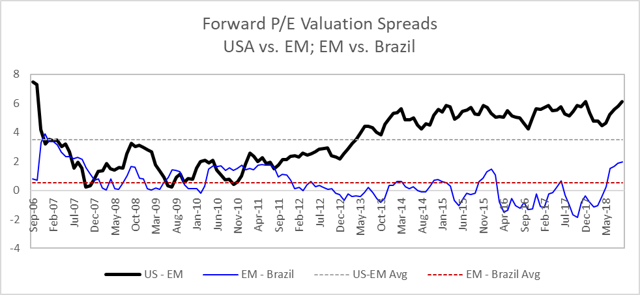 Source: Bloomberg (data provided through 9/21/2018)
Despite a significant decline, the Real is only modestly undervalued
Since the beginning of the year the Brazilian Real has depreciated approximately 30% in nominal terms. However, the real exchange rate (RER) is a better indicator of the value of the Real relative to its historical purchasing power equilibrium. Currently, the Brazil RER is around 10% below the long-term average indicating a moderate undervaluation through July 2018, but it is not an outlier in a historical context. As long as inflation remains at a manageable level, a depreciating currency is not necessarily a negative for the Brazilian economy as it will further improve the trade balance and due to Brazil's low level of foreign denominated debt a lower Real will not significantly increase indebtedness. At this level, long-term investors should feel comfortable with the exchange rate. That said, the Real has the potential to significantly decline over the mid-term, particularly in the scenario that fiscal deficits continue at >5% of GDP and capital outflows continue.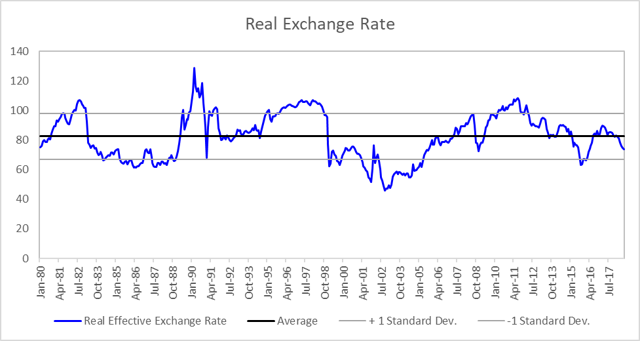 Source: World Bank
Signs indicate an attractive entry point, but caution is warranted
From a historical perspective, it is arguable that the Brazilian stock market offers an attractive entry point for the long-term investor's portfolio. The economy appears to have the capacity to generate above average long-term growth over the short to mid-term, multiples are relatively low, and the local currency is undervalued (though still in the expected range.) The macro environment will eventually normalize to a level that benefits the Brazilian economy. If the cyclical factors were the primary drivers of the discounted valuation, we would be a lot more optimistic on the Brazilian stock market. However, there are risks present that the market may be underestimating, mostly the negative impact of unsuccessful pension reform.
Looking ahead, there are catalysts that investors should track. First, the ability of the next Brazilian president to implement the needed economic reforms will reduce the level of risk in the market and unlock a significant amount of growth potential. The pension system is a ticking time bomb that requires immediate reform. It is underfunded due to demographic shifts (e.g. older population and lower birth rates), expensive retirement packages to public sector workers (~3% of participants but >30% of expense), and a sluggish economy. In 2017, the pension system required the government to pay ~4.5% of GDP to meet obligations and is clearly the top priority in reducing the fiscal deficit. However, the current pension system was embedded in the constitution during the 1988 transition to democracy. As a result, three-fifths of Congress must support the politically difficult reforms.
On a positive note, it appears that Brazilian citizens are becoming more accepting to pension reforms. Per Datafolha, in April 2017 71% of Brazilians rejected pension reform. In a January 2018 poll by IBOPE only 44% of Brazilian rejected pension reform. If the pension system remains in its current state, the government will likely opt to meet its obligations by printing money (i.e. inflation) as opposed to politically difficult actions such as raising taxes and/or defaulting. Additionally, policy reforms that limit the government's ability to support special interests through a cumbersome tax system, import substitution and subsidizing state backed companies will lead to productivity gains and fewer channels for corruption. The October election will provide some clarity on the likelihood of critical reforms that will certainly make Brazil a more attractive market to invest.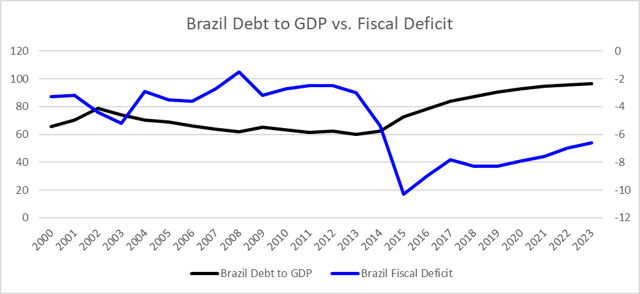 Source: CEIC 
Second, the commodity cycle will eventually return to more favorable price levels for one of the world's largest commodity exporters. Even though China's extraordinary growth is expected to subside, world economic growth is expected to remain solid mostly driven by developing economies, particularly India. That said, the benefits Brazil realized from record high commodity prices in the first decade of the 21st century are not expected to return. The return of moderately favorable commodity prices will likely stave off worst case scenarios (at least until the next decline) but will not be enough to boost GDP above Brazil's unimpressive 2-2.5% long-term growth rate. That responsibility is left to Brazilian voters and the ability of the policymakers they elect to implement tough economic reforms.

Source: Trading Economics 
Third, tightening monetary policy in the United States (and eventually the EU) is leading to capital outflows in emerging markets, including Brazil. The key metric to track is the Brazilian Central Bank's interest rate (SELIC). Since August 2016, the Central Bank has steadily decreased rates from 14.25% to 6.50% to provide monetary support to the recessionary economy. There is a risk that a tighter global monetary environment will force the Brazilian Central Bank to pre-maturely raise interest rates placing more pressure on an embattled economy and delaying recovery.
Conclusion
We will remain cautious on investing in Brazil until there is improvement of structural issues facing the economy. However, at these valuations a small position and the intention of taking a more aggressive stake if the probability of structural reforms improve might be warranted for investors with higher risk appetites. Historically, significant changes such as the ones needed do not happen quickly in Brazil (or most of Latin America). Unfortunately, there is a decent probability that the needed reforms are not implemented leaving an unsustainable fiscal deficit which would likely lead to another recession by means of higher interest rates and/or high inflation. While we are confident that commodity prices and investment to emerging markets will eventually return, the political uncertainty in Brazil will leave us on the sideline until there is more clarity.
Disclosure: I/we have no positions in any stocks mentioned, and no plans to initiate any positions within the next 72 hours.