Now that I'm 100% in cash, my current efforts are focused on observing the markets and looking for signals to start re-entering the market, which I don't expect to happen any time soon.
With the market down 25% from its peak I had a burning question: How cheap is the stock market now? Looking for an objective answer I found myself looking for the market's current P/E ratio, which is perhaps one of the most common ways to gauge its value.
The P/E ratio is the share price divided by earnings per share. It tells us how much investors are paying per dollar of earnings. For example, a ratio of 15 means investors are willing to pay $15 for every dollar of earnings a company, an industry or the stock market as a whole earns.
Historically the average P/E ratio is 15.78, so generally values much greater indicate an overpriced stock market. The following table is my findings of the current market's P/E ratio.
| | |
| --- | --- |
| P/E Source | P/E Ratio |
| | 18.9 |
| | 19.0 |
| | 22.4 |
| | 23.4 |
| | 23.9 |
Data as of 3/17/2020
As you can see there was a great deal of difference between what each source says, which can be attributed to the method of calculation each source uses. The only common denominator seemed to be they all used the trailing twelve months ((TTM)) of earnings in the calculation.
I decided to dig a little deeper into the P/E subject and was reminded there were two methods of calculating the P/E ratio. The first is what was shown above. The second, and better method, is described in an article titled: Shiller P/E – A Better Measurement of Market Valuation. Simply stated this method uses the annual earnings of the S&P 500 companies over the past 10 years and adjusted for inflation.
Fortunately, during my research I came across a very recent and excellent article by Jill Mislinski titled: Is The Market Cheap? The article outlined the reasons why the Shiller P/E ratio is superior to the P/E TTM method. And, stated the average Shiller P/E ratio since the 1870's has been 16.8 compared to the current level of 30.7, as of 3/2/2020. Ms. Mislinski's analysis went a step further by using an exponential regression of Shiller's P/E ratio shown it was 130% above regression, as shown in the chart below.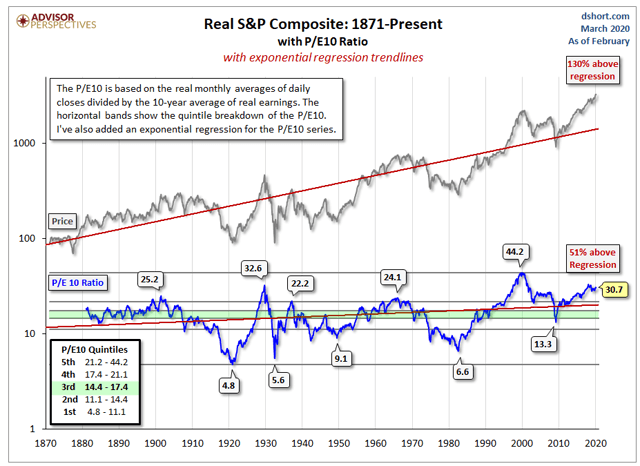 Source: Advisor Perspectives, A Website For Financial Advisors.
Since the publication of Ms. Mislinski's article on 3/2/2020 the market has fallen by 18.8%, as of 3/17/2020. Could the P/E ratio have returned back in-line with historical norms? According to Guru Focus, and as shown below, the Shiller P/E remains 30.6% higher than the historical mean of 17!

Conclusion: I think the historical mean of 17 for the Shiller P/E ratio is a good general guideline to tell us where things stand, but certainly not a line in the sand, as we have seen P/E values moderately above that number to be sustainable. By the time we get a handle on COVID-19, and there is return to normal business activities, I foresee the Shiller P/E to be at, if not below historical norms. Until then, and if you happen to have some dry powder, I suggest you have a clear plan of how you are going to reenter the market and how aggressively.