I would like to speak to you regarding BIO-key. Thanks for reaching out this morning.
If you have time please feel free to contact me on my office number below. Here is my write up that I've done on BIO-key so far and I like what I see. I would like them to directly address this cash situation though.
Over this past week I've been trying to find companies that are publicly traded and have associated themselves with Authentec & fingerprint identification. Friday July 26th Authentec (NASDAQ:AUTH) was purchased by Apple for $356 million in cash. Apple investing the $356 million suggests that Apple may be getting serious about the enterprise client market. This deal with Authentec could pave the way for development of iPads and iPhones with built-in biometric authentication features. Authentec isn't alone in the market for iPad and iPhone-compatible biometric readers. A number of third parties, including Bio-key, have developed such systems. Authentec will presumably develop fingerprint scanners that will be built directly into Apple's mobile products. That could make them more suitable for use in highly regulated, security-conscious industries like healthcare and financial services. http://www.informati...e/mac/240004465
Apple is a trend setter and I'm impressed due to the fact that BIO-key plays an integral part with the software. They have 10 patents compared to Authentec's 190. Authentec is working with BIO-key for a reason and have developed a relationship for over 5 years now. BIO-key is a Biometric service provider that can mitigate risks, strengthen security, and improve productivity, in addition to reducing operating costs. BIO-key service provider also enables enrollment, identification, and verification. The data is captured and digitized and stored as a mathematical template, the user's actual fingerprint image is not kept on any computer or in any database.
Bio-Key International (OTC:BKYI)
Current Price $.08
Market cap: $7 Million
Symbol: OTCQB: BKYI
Shares Outstanding Basic/Diluted: 78.1m/78.2m
Website: http://bio-key.com/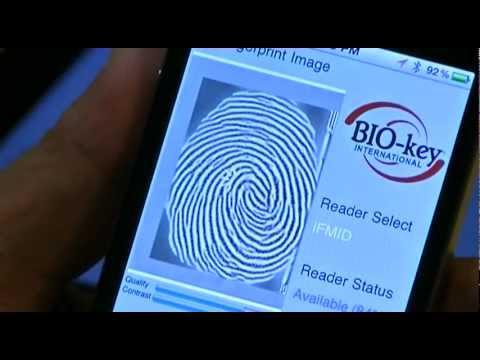 Investment Summary:
BIO-key develops and markets advanced identification biometric technology and software solutions. BIO-key is a pioneer in the industry and has been able to partner with some strong companies in several different industries. BIO-key finger based identification technology is scaleable and can be leveraged on several different operating systems. BIO-key conducts 41 image enhancements when processing each fingerprint image. Over 200 points of data are referenced in each enrollment and authentication of a fingerprint. BIO-key software inspects over 2,000 indications for each fingerprint processed. BIO-key's roots can be traced back to 1993 therefore one of the most experienced companies in the biometric industry. BIO-key has built a team of experts in the area of technology, security and biometrics.
A critical challenge that virtually every organization faces today is protecting internal and customer data while making it convenient as possible to access. Passwords, the traditional method of authentication, can be stolen or borrowed, and they do not always adequately protect information from unauthorized use or view. If passwords are easy to remember, they are easy to break. To make passwords more secure, or strong, they must be longer, more complicated, and less predictable, unfortunately making them more difficult to remember. With an increasing mobile workforce that works outside physically-secure corporate facilities, the potential for identity theft is great than ever before.
BIO-key's current business plan:
License its core technology "VST" and True User Identification® to original equipment manufacturers, systems integrators, and application developers who develop products and applications that utilize its biometric finger matching solutions. VST offers complete support from every major fingerprint reader manufacturer. With this capability users ENROLL ONCE to establish their identity. True User Identification (TUI) is a scalable Intelligent Image Indexing technology for identification systems of any size. It's performance speed of more than 6 million fingerprint matches per second has been validated at Oracle's Partner Technology Center.
They are making it SIMPLE, SECURE, & CONVENIENT.
License WEB-key®, the Company's security centric web-based biometric authentication solution.
Integrate its core technology competencies to leverage new business opportunities and develop new markets for its innovative products. WEB-key enables developers and integrators to quickly and easily build scalable biometric identification systems with little or no technical support, regardless of prior biometric experience.
WEB-key enrollment and identification wizards are respected as the easiest to use in the industry for capturing the highest quality data. WEB-key's Service Orientated Architecture (NYSE:SOA) and BIO-key's TUI technology deliver an extensible development frameworkcapable of managing hundreds of millions of fingerprints for alias prevention, verification and identification purposes.
Bio-key Partners:
BIO-key has developed some very key partners in several different verticals. Just to name a few Allscripts, Oracle, IBM, Authentec, Healthcare-ID
http://www.bio-key.com/partners/
Bio-key Patent Portfolio:
US 2008/0270787 A1 (Biometric Identification Network Security)
US 7,117,356 (Systems & Methods for Secure Biometric Authentication)
US 7,155,040 (Generation of Quality Field Information in the context of Image Processing)
US 7,359,553 (Image Identification System)
US 7,415,605 (Biometric Identification Network Security)
US 7,454,624 (Match Template Protection within Biometric Security Systems)
US 7,539,331 (Image Identification System)
Anybody have expertise in the Patent Valuation Field?
I have no idea how to properly value their IP, but I would have to believe that it is worth more than the current $7m dollar market cap.
Financials:
BIO-key financials aren't the strongest. Their revenues are flat the past two years at $3.5m. Q1 2012 they did $1.4m in revenue and made about $363k. Q1 2011 they did about $1.4m in revenue, but had higher SG&A then this year. I'm not sure if Q1 is typically the strongest or that was just a unique coincidence. I can't imagine this business having seasonality issues to it. They have about $1m in debt and have approx. $200k in the bank.
Interesting Articles:
Health Care Reform: Let's Not Forget Privacy And Data Security (July 2, 2012) http://www.forbes.co...-data-security/
Apple Wants Your Fingerprint (July 27, 2012)
http://blogs.cio.com...t#disqus_thread
iPhone Fingerprints Take Mobile Payments Mainstream in 2013 (July 31st, 2012)
http://www.macobserv...stream_in_2013/
BIO-key Social Media Channels:
Linkedin: http://www.linkedin..../24903?trk=tyah
Twitter: https://twitter.com/BIOkeyIntl
YouTube: http://www.youtube.com/user/biokey1
How does a BIO-key biometric security solution address identity theft?
BIO-key's biometric solutions are more secure than traditional forms of identity alternatives such as Passwords, ID cards, and PINs. Unlike these less secure, easily counterfeited alternatives, it's virtually impossible for anyone to steal your identity when accessing a biometrically secure system without your biometric finger data. A compromised password or PIN or lost credit card, drivers license or checkbook does not offer that security. Your BIO-key biometric data is encrypted and secured in multiple layers to further ensure the safety of your identity.
Unique Quotes I pulled out of PR's
"BIO-key is committed to pioneering the gateway for biometrics to provide a secure path
to mobility and the advanced functionality of Smartphone's and Tablet devices. On a
daily basis we're seeing indications that the Smartphone's and Tablet PC will be the most valuable and most utilized technology for consumers and businesses moving forward.
Your phone will be your credit card, your passport, your bank and your shopping mall.
Businesses will be using both phones and tablets to process orders and manage inventory.
Advanced functionality is going to require a stronger degree of authentication -
identification and security. Our hardware independent, universal access software for
iOS, Android and WinMobile devices that is easily integrated into existing desktop and
laptop deployments is the best choice for companies looking to add the convenient
security that finger biometrics offers.
"The opportunity to introduce fingerprint authentication solutions for the iPad and iPhone at ACE could not be timelier. BIO-key is committed to providing advanced solutions for EMR & EHR providers; BIO-key software meets the new DEA ePrescription compliance guidelines and the 2 factor requirements of the Ohio Board of Pharmacy. Recently, upon presenting the new technology to an R&D manager at a leading EMR provider, he responded by saying BIO-key has hit a homerun for EMR providers with the new iPad solution," stated Randy Fodero, VP of Sales, BIO-key International Inc.
"This is a milestone for our company," stated Mike DePasquale, Chief Executive Officer of BIO-key. "The IBM Redguide publication will be available to thousands of IBM technical sales and support representatives, solution providers, business partners, customers, prospects and posted on the IBM social media outlets; the reach is quite significant. We anticipate that the exposure and awareness generated for BIO-key, by the IBM Redguide publication, will lead to a measureable increase in business opportunities. BIO-key has already started deploying our biometrics along with IBM security offerings at a number of customer sites around the world and expect our revenue to expand in the coming quarters," added DePasquale.
IBM selected BIO-key as one of their biometric partner because of BIO-key's unique ability to offer universal access to any fingerprint reader, any device, such as a PC, laptop, tablet or smartphone and operate on any platform including iOS, Windows Mobile, and Android. No other finger biometric software provider offers this capability.
There have been 354 million privacy breaches over the past five years in the United States alone. To address this issue many companies are migrating to risk based authentication models. IBM and BIO-key are working together to provide alternative solutions to traditional passwords, PINS and tokens in order to provide best in class security for the business enterprise, healthcare providers, government agencies and the consumer.
"BIO-key's biometric algorithm is fast, accurate, and seamlessly integrates into Indigo's Strong Authentication and SSO solutions. We have enjoyed years of consistent success together and the healthcare opportunities for biometric authentication are increasing," stated Terry Banbury, Indigo's Vice President of Sales & Client Services.
AUTH PR with BKYI a LONG Time Ago -
AuthenTec and BIO-key Launch Strategic Initiative Supporting Enterprise Application Deployments
http://www.prnewswir...s-53630782.html
The contact listed on the PR was Julie Garand. I did a search on Julie on Linkedin and found that she stopped working with BIO-key back in 2007. This verifies that they have been working with Authentec for quite some time.
Conclusion:
Back in February of 2012 Bio-key introduced a Mobile Biometric App on iTunes & Android Platforms Mobile Authentication App to meet market demand for strong security and convenience. Bio-key is the only software developer to offer interoperable biometric authentication solutions for the 3 most recognized mobile platforms. BIO-key offers full enrollment and identification, supported by a highly accurate mathematical algorithm and full security encryption of critical authentication data.
I spoke to Mira LaCous last week who is the CTO of BIO-key. She was very insightful and seems to have a very compelling background. She is applying her skills and passion to advanced mobile solutions utilizing biometrics. She has been granted 5 patents and over a dozen international patents for cutting edge technology. She said she has worked for the company for about 12 years and very please with the developments and progress that BIO-key is making.
I also spoke to Scott Mahnken last week, and he said that it has taken quite some time to develop the technology. Also, mentioned that their relationship with IBM is going very well. He said that getting published in IBM's redbook is comparable to BIO-key hiring about 20 sales people. http://www.redbooks....fs/redp4892.pdf (This is a great write up on how BIO-key is working with IBM to provide an Enterprise Single Sign on service.) I still haven't chatted with the CEO, but trying to set that call up soon.
This is not the typical micro cap investment that I make, but Apple buying Authentec (AUTH) has forced me to take a look. The company has diluted about 14m shares over the past 3 years and hopefully that will stop soon. I'm looking at this from a Patent angle and this could get very buzzy as soon as this companies tech is discovered along with Apple announcing Biometrics on the future iPhones. BIO-key's tech fits the bill for what consumers are looking for and they may just be in the right place at the right time. After the Q2 conference call last year many insiders bought shares on the open market above 10c. I would expect additional insider buying after this call as well. I tried to do my best with displaying my research on this post. They should have their 2nd quarter #'s out next week along with a conference call so that should be a good time to ask some questions.
Disclosure: LONG BKYI
Disclosure: I am long OTC:BKYI.