Prepared by ChinaScope Financial | Source:Ifeng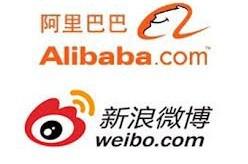 Sina Corp. (SINA: NASDAQ) announced on April 29 that its subsidiary, Weibo Corporation (Weibo) has reached a strategic cooperation agreement with Alibaba Group (Alibaba) to jointly explore social commerce and develop innovative marketing solutions to enable merchants on Alibaba e-commerce platforms to better connect with Weibo users. According to the agreement, Alibaba will spend USD 586 million purchasing preferred shares and ordinary shares, which account for approximately 18 percent of Weibo. Sina will grant an option to Alibaba to enable Alibaba to increase its stake in Weibo to 30 percent at a mutually agreed valuation within a certain period of time in the future.
Sina and Alibaba will cooperate in the areas of user account connectivity, data exchange, online payment and online marketing, among others, and will explore new business models for social commerce based on the interactions of hundreds of millions of users on Weibo and on Alibaba's e-commerce platforms. The strategic partnership is expected to generate approximately USD 380 million in revenues from advertising and social commerce services for Weibo over the next three years.
Disclosure: I have no positions in any stocks mentioned, and no plans to initiate any positions within the next 72 hours.