Source:
Agile Property Holdings Ltd.
,
ChinaScope Financial (Data)
+ On March 21, Agile Property Holdings Ltd. acquired four land plots for residential buildings and one land plot for hotel operation in Wenchang city, Hainan province. The purchase was made through a tender offer and totaled CNY 270 million.
+ The area of the five land plots totaled 356,000 square meters, with gross floor area (NYSE:GFA) of 298,000 square meters. The average price of GFA is CNY 898 per square meter.
+ According to Agile, in 2011, the contracted sales value of the Hainan Clearwater Bay project reached CNY 7.2 billion, leading all real estate projects in Hainan.
Hainan Agile's (3383.HK) Hainan land reserves are second only to those in the Pearl River Delta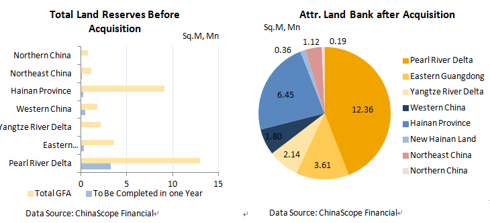 The average cost of the newly purchased land in Hainan (Below graph: New Hainan Land) is much higher than previous land purchases in Hainan. Sales in Hainan Clearwater Bay are increasing.