Source: Shanghai Stock Exchange, ChinaScope Financial (Data)
+ According to the annual report released by Hua Xia Bank Co., Ltd. (600015.SH) today, the bank made CNY 8.22 billion in net profit in 2011, up 53.97% year-on-year, and plans to pay out a cash dividend of CNY 0.25 per share to all shareholders.
+ The bank's revenue was CNY 33.54 billion, increasing 37.03% year-on-year, in 2011.
+ At the end of 2011, outstanding non-performing loans totaled CNY 5.6 billion, decreasing 10.46%, or CNY 654 million, from 2010. The non-performing loan ratio was 0.92%, provision coverage ratio 308.21%, capital adequacy ratio 11.68%, and core capital adequacy ratio 8.72%.
HXB has been expanding their non-interest income business and so despite lower growth of loans and deposit, net profits increased rapidly in 2011.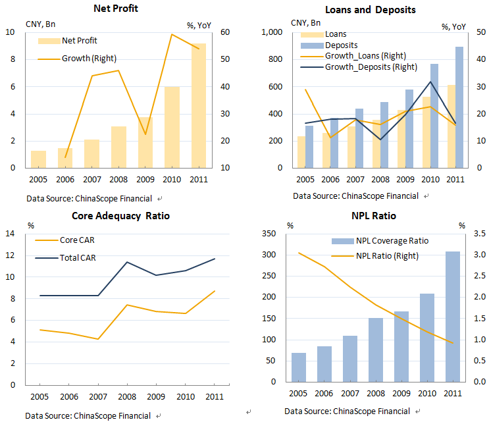 Trading Comparable