Source
:
Hong Kong Stock Exchange
,
ChinaScope Financial (Data)
+ GOME Electrical Appliances Holdings Ltd. (493.HK) released its 2011 annual report on March 27. The report shows that GOME made CNY 59.82 billion in revenue, a 17.5% year-on-year increase while net profit margin fell 6.2% year-on-year, to CNY 1.84 billion.
+ The number of GOME-owned stores increased from 826 in 2010 to 1,079 in 2011. Same store sales growth increased 3.06% YoY in 2011.
Despite higher gross margin, the net margin dropped due to significantly higher selling expenses in 2011.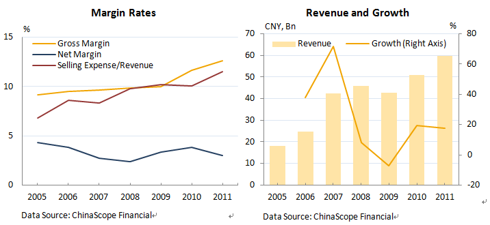 GOME (0493. HK) is continuing closing down stores with limited profitability, albeit at a slower pace than previously. Meanwhile, the company has started rapid store expansion again.