Source:
National Business Daily
,
ChinaScope Financial (Data)
+ Data from the Beijing Land Consolidation and Reserve Center shows that in the first quarter of 2012, 45 land plots were sold at starting price in Beijing. This is the first time that all land plots are sold at starting price, indicating sluggish demand.
+ The price for the 45 land plots was CNY 9.67 billion, down 39.3% from last year's CNY 15.9, and the first time in nine quarters that land price in Beijing falls below CNY 10 billion.
The total land transaction volume in Beijing decreased significantly in Q1 2012.
However, the year-on-year transaction volume of residential land did not decrease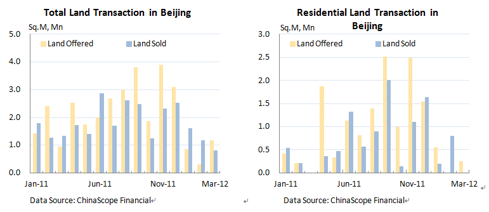 Lower land supply was the main reason for the decrease in transaction volume, as
indicated by the higher land supply/trading ratio.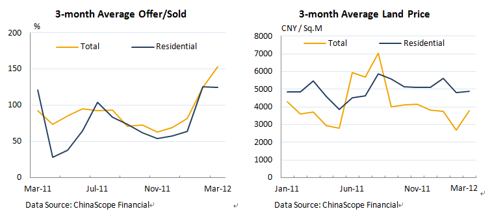 Tongzhou District and Daxing District still ranked top in land transaction volume