Source:
Shanghai Stock Exchange
,
ChinaScope Financial (Data)
+ Yesterday, Tsingtao Brewery Co., Ltd. (600600.SH, 0168.HK) released its 2011 annual report, showing that sales volume increased 12.6% year-on-year to 7.15 million kiloliters; operating revenue reached CNY 23.16 billion, a 16.38% year-on-year increase, and net profit attributable to shareholders increased 14.3% year-on-year to CNY 1.74 billion.
+ In 2011, the sales volume of Tsingtao Beer increased 15% to 3.99 million kiloliters, of which 1.2 million kiloliters were high-end beer products, a 23% year-on-year increase.
Revenue growth has been robust in 2011 and margin rates have kept stable, leading to an EPS increase of 14.3% compared to last year.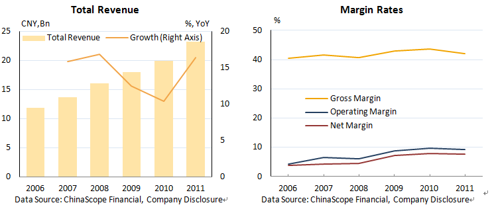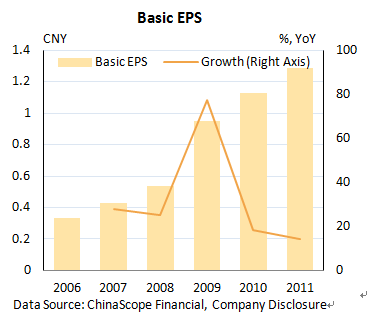 The sales volume of Tsingtao Brewery has been growing steadily;, meanwhile the company's market share is also rising.