Source: Soufun, ChinaScope Financial (Data)
+ Data from the China Index Academy shows that the average price of residential properties in 100 Chinese cities was CNY 8,741 per square meter, down 0.3% month-on-month in March. The price has been declining in month-on-month terms since last August.
+ Property prices in major cities such as Beijing and Shanghai are also declining. Statistics show that the average housing price in ten major cities was CNY 15,454 per square meter in March, down 0.4% month-on-month.
For the last seven months, the average price in 100 cities has dropped in month-on-month terms.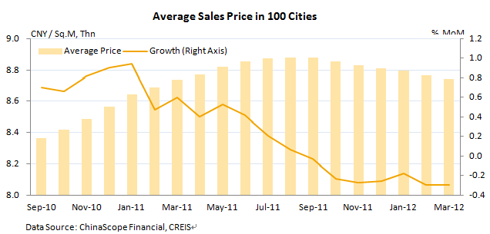 In March, the number of cities that experienced month-on-month growth of average sales price was 7 more than in February.
The average housing prices dropped year-on-year in seven out of China's ten major cities. Prices in Shenzhen, Guangzhou and Wuhan rose.