Source: Shanghai Stock Exchange, ChinaScope Financial (Data)
+ Poly Real Estate Group Co., ltd. released its 2011 annual report today, showing operating revenue of CNY 47.04 billion, up 31.04% year-on-year, and net profit attributable to the parent company of CNY 6.53 billion, up 32.74% YoY
+ In 2011, due to the expansion of real estate projects, Poly's inventory value increased 38.41% year-on-year to CNY 15.21 million.
The sales growth of Poly (600048.SH) slowed down in 2011, mainly due to the slower sales growth in tier-one cities.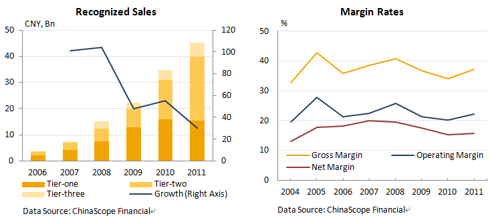 In 2011 average sales prices dropped in tier-three cities, while they rose quickly in tier-one cities.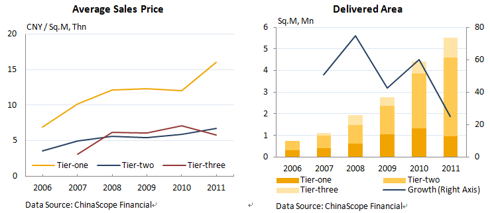 Both property inventory growth and cash ratios are at reasonable levels.