Source: China Association of Auto Manufacturers, ChinaScope Financial (Data)
+ According to recent statistics released by the China Association of Automobile Manufacturers (CAAM) on April 11, output of automobile was 1.88 million, up 3.38% year-on-year and sales of automobiles was 1.84 million, up 1.02% year-on-year in March 2012.
+ A total of 1.4 million passenger vehicles were sold in March, up 4.54% year-on-year, of which 176,200 were sports utility vehicles (SUV) which recorded a steep 32.38% year-on-year increase.
+ The market share of domestic-brand passenger vehicles declined, with 603,600 sold vehicles in March, down 1.7% year-on-year, equivalent to a 43.1% market share, 2.7 percentage points lower than in March last year.
The automobile sales volume growth dropped to 1.02% YoY in March.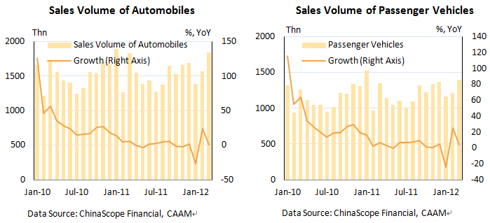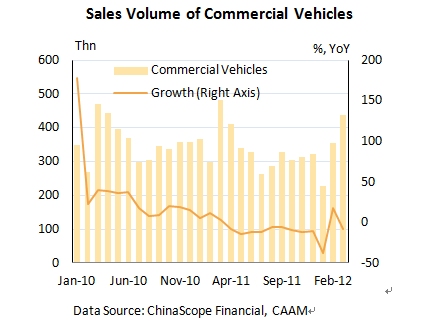 With a 32.28% YoY growth in March, SUV growth was the highest among passenger vehicles.