Source: Shenzhen Stock Exchange, ChinaScope Financial (Data)
+ The 2011 annual report of XCMG Construction Machinery Co., Ltd. released on April 11 shows that the company made CNY 32.97 billion in revenues last year, up 28.03% year-on-year. Net profit was CNY 3.37 billion, up 15.12% year on year.
+ With accounts receivable time increasing, liquidity is a concern among engineering machinery companies. According to XCMG's annual report, its accounts receivable was CNY 9.77 billion at the end of 2011, up 148.36%. The figure at the same time was for Sany Heavy Industry Co., Ltd CNY 11.3 billion, up 97.3% year-on-year and for Zoomlion Heavy Industry CNY 11.65 billion, up 67.81% year-on-year.
Revenue growth was 28.03%, while net profit attributed to equity holders grew at 15.12% in 2011.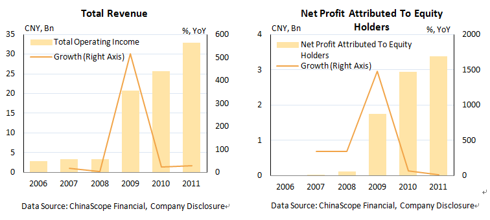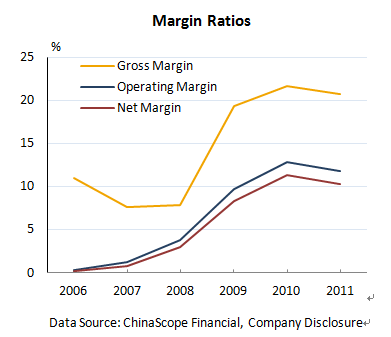 The growth in inventory days and accounts receivable days led to a longer cash conversion cycle.