Source: Air China Ltd., ChinaScope Financial (Data)
+ Air China Ltd. released its first-quarter financial report on April 26, showing that net profit attributable to shareholders of the listed company was CNY 239 million, down 85.70% year-on-year in Q1.
+ Due to higher jet fuel prices, Air China's net profit attributable to shareholders of the parent company went down by CNY 1.43 billion year-on-year. In addition, foreign exchange gains and investment returns also decreased year-on-year.
+ The company also announced a private placement plan, which aims to raise CNY 1.05 billion via shares selling to the controlling shareholder China National Aviation Holding Company (CNAH). CNY 1 billion of the raised amount will be used for two energy-saving projects and for repaying bank loans used when the company increased its holdings in Cathay Pacific Airways.
Both revenue growth and margins are dismal.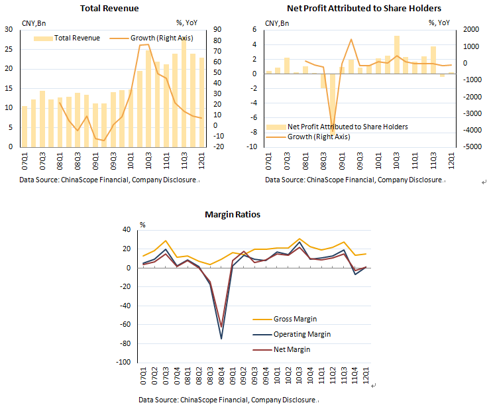 Key operation data indicated a weak trend of Air China's revenue in 2012.