Source: Bank of China, ChinaScope Financial (Data)
+ According to the first-quarter financial report released by Bank of China (BOC) on April 26 the bank's net profit was CNY 36.76 billion, up 9.94% YoY in Q1. The numbers are based on the International Financial Reporting Standards.
+ The bank's return on equity (ROE) was 19.81% in the first quarter, down 0.42% YoY and average return on assets (ROA) was 1.24%.
+ By the end of March 2012, the BOC's non-performance loan (NPL) ratio was 0.97%, down 0.03 percentage point YoY, amounting to NPLS of CNY 63.94 billion, up CNY 665 million. Capital adequacy ratio and core capital ratio were 12.80% and 9.97%, down by 0.17 and 0.1 percentage points YoY.
The increase in the growth rate of interbank lending and deposit might be caused by tighter credit loans regulation.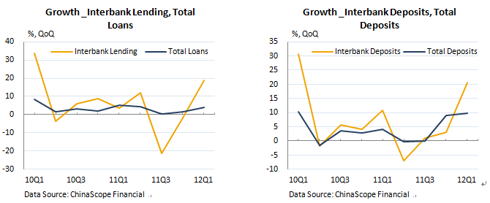 Growth in customer deposits led to higher growth in interest expenses in 2012Q1.