Source: Petrochina, Sinopec, Sinopec, ChinaScope Financial (Data)
+ According to PetroChina, its operating revenue was CNY 525.65 billion, up 17.86% YoY and net profit was CNY 39.15 billion, up 5.8% YoY in Q1. The growth is mainly due to exploration and production, which generated operating profits of CNY 60.38 billion, up 31.6% YoY.
+ Meanwhile, Sinopec's first-quarter operating revenue was CNY 398.31 billion, up 11.35% YoY, while net profit was only CNY 13.41 billion, down 35.04% YoY. Exploration and mining generated operating income of CNY 19.55 billion, up 48.75% YoY, while refining losses amounted to CNY 9.17 billion.
+ The difference in the two companies Q1 performance is mainly due to their different reliance on crude oil imports. Sinopec imports 80% of its crude oil, compared to 30% for PetroChina, the former being more vulnerable to international oil price fluctuations.
Revenue growth of both companies decreased in 2012Q1, resulting in a net profit attributed to share holders growth of 5.81% for PetroChina and a negative 37.42% for CPCC.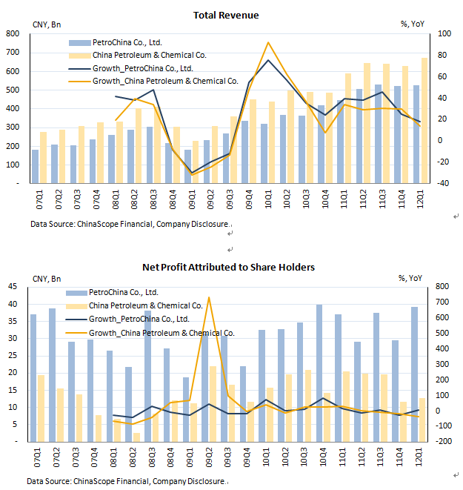 Margin ratios for PetroChina have rebounded, while those of CPCC remain weak.