Source: Imeigu, ChinaScope Financial (Data)
+ The first-quarter report released by 51job, Inc. on May 10 shows that its operating revenue was CNY 380.8 million (USD 60.5 million) in 2012Q1, up 17.3% year-on-year. Net profit amounted to CNY 120.5 million (USD 19.1 million) during the same period.
+ Online recruitment services revenues for the first quarter of 2012 were CNY 229.1 million (USD 36.4 million), a year-on-year increase of 32.6%. The increase was primarily due to higher average revenue per unique employer as well as a greater number of unique employers using the company's online recruitment services.
+ In 2012Q1, the company's average revenue per unique employer increased 19.7% year-on-year, and unique employers increased 10.8% year-on-year to 171,545.
51Job enjoys healthy revenue growth. Other HR Services is making up an increasing share of revenue but online recruitment services remain the company's major revenue generator.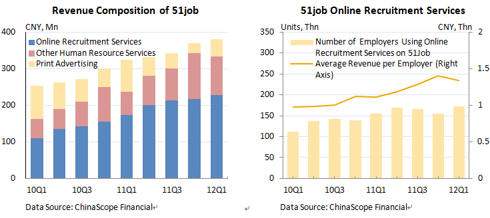 Possibly due to higher management efficiency and economies of scale, operating margins have improved at a rate of 10% since 2010Q1. The company is also enhancing its profitability through non-operating activities, seen from the rapid increase of investment income.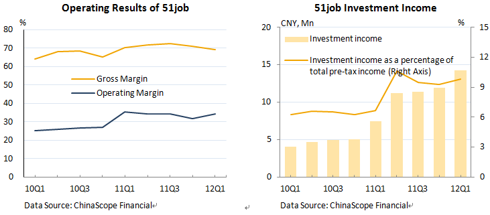 In terms of website traffic, 51job is China's No.1 online recruitment website.