Source: Imeigu, Imeigu, ChinaScope Financial (Data)
+ The 2012Q1 report of AirMedia Group Inc. shows that the company's operating revenue increased 10.1% year-on-year, while the gross profit fell 10.8% year-on-year to USD 3.3 million. The company recorded an operating loss of USD 6.9 million, up 28% year-on-year compared with USD 5.4 million in 2011Q1.
+ As of May 6, 2012, AirMedia had repurchased 3.4 million ADSs worth USD 11.1 million through open market operation, with an estimated average price of USD 3.26 per share.
Revenue of AirMedia has a significant seasonality. The digital frame advertising contributes about half of the total gross revenue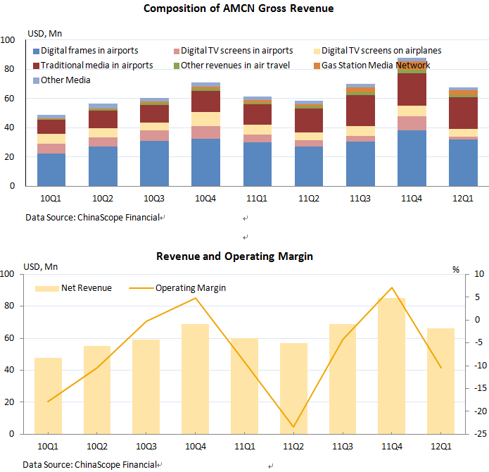 The utilization rate of digital advertising devices in 12Q1 is at the bottom in recent years. The average revenue generation from each time slot or location maintained stable.