Source: Ministry of Commerce, ChinaScope Financial (Data)
+ On May 15, statistics released by the Ministry of Commerce (MOFCOM) showed that prices of agricultural products either decreased or maintained slow growth in the past week. Pork prices have decreased significantly from the beginning of this year.
+ The wholesale Price Index of agricultural products released by the Ministry of Agriculture is also on a downward trend, and since food expenditure accounts for about 35% of the Chinese CPI basket, the lower food price will relieve some inflationary pressure.
The prices of cabbage and onion have increased since the end of 2011.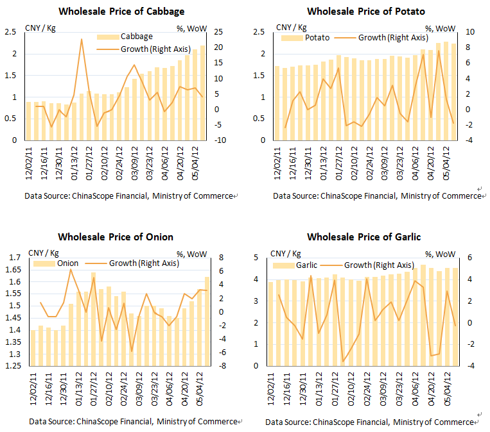 Price of fresh pork, on the other hand, has decreased significantly since the end of 2011. Price of fresh beef and mutton have increased slightly.