Source: Xinhua, ChinaScope Financial (Data)
+ Recent data published by the Guangdong province statistics bureau shows that in the January-April period, floor space of commodity housing under construction grew 15.1% YoY. In the same period, real estate developers in the province invested a total of CNY 127.62 billion, up 15.1% YoY.
+ Fixed asset investment in the province was CNY 411.27 billion, up 9.9% year-on-year in Jan-Apr, the first time since 2002 with growth rates below 10%.
+ The investment growth of real estate therefore exceeds that of fixed assets by 5.2 percentage points, suggesting that the real estate sector remains the main driver of Guangdong's investment growth.
Total real estate development investment of Guangdong Province dropped in 2012.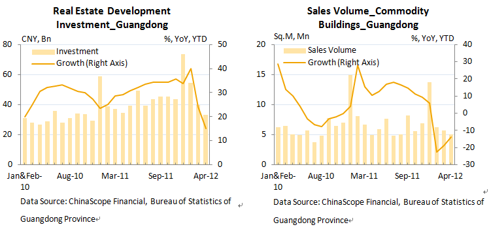 Growth of floor space under construction declined and growth of site area of land purchased by developers was negative year-on-year in April.