Source: Company Disclosure, ChinaScope Financial (Data)
+ The first-quarter financial report of GOME Electrical Appliances Holding Ltd. (493.HK) shows revenues of CNY 9.76 billion in 2012Q1, down 28.62% year-on-year. Operating profit was CNY 53 million, down 92.26% compared with CNY 685 million in 2011Q1.
+ Despite the large decrease in operating profit, GOME's gross profit in Q1 only declined 10.63% year-on-year, to CNY 1.35 billion.
Revenue declined 28.62% YoY and net profit attributed to share holders declined 88% YoY in 2012Q1.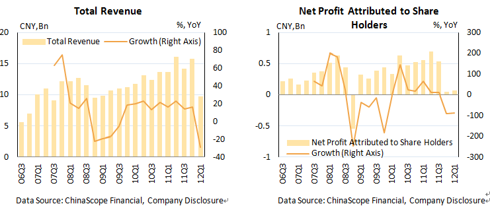 Although the gross margin ratio is improving, rise in selling and g&a expenses dragged down the operating margin ratio to 0.54% in 2012Q1.