Source: NBS, NBS, ChinaScope Financial (Data)
+ Data released by the National Bureau of Statistics on May 29 shows that private sector employees average wage was CNY 24,556 in 2011, up 18.3% in nominal terms, and 12.3% in real terms.
+ The average wage of public sector employees was CNY 42,452 in 2011, a 14.3% nominal increase equivalent to an 8.5% real increase.
The average wage for public still exceeds that of private employees. The private employee average wages is, however, catching up.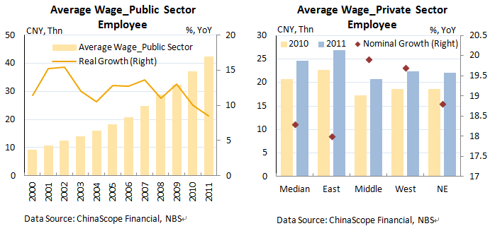 According to the CSF demographics model, China's working age population peaked in 2010, implying long term wage increases.