Source: Hexun, ChinaScope Financial (Data)
+ Data shows that Macau gaming industry revenue increased 7% year-on-year in May and grew 12% year-on-year in June.
+ In 2011, the total operating revenue of the Macau gaming industry was USD 34 billion. Compared to the 700% growth of gaming revenue in the period 2004 to 2011, the current growth is mediocre.
Cooler macroeconomic environment has led to slower growth in Macau's gaming revenue.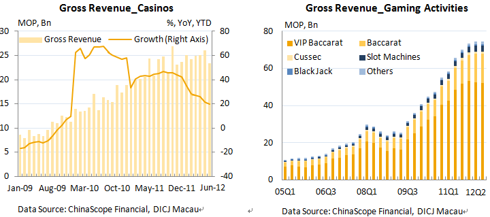 Macao's reduced popularity as a gambling destination has led to a decline in hotel occupancy ratio.