Source: China Internet Network Information Center, ChinaScope Financial (Data)
+ According to a report published by the China Internet Network Information Center on July 19, as of June 30, 2012, the number of Chinese internet users had reached 538 million. Of these, 388 million are mobile user accounts, an increase of 32.70 million, or 2.9 percentage points, compared to the end of 2011.
+ In comparison, the number of people using desktop computers for internet access in 12H1 reached 380 million. Hence mobile access has become the most popular way for Chinese internet users to browse the web.
In 12Q1, the number of internet users from mobile terminals surpassed that of desktop PC users, providing increased business opportunities for services such as O2O and location based services. The number of IPv6 addresses owned by China now ranks 3rd in the world.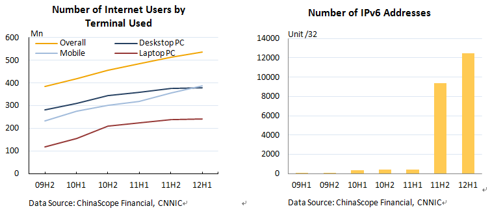 Average time per week spent on internet reached a two-year high in 12H1. The popularity of micro-blogging has quickly exceeded that of social networks.