Source: Sina, ChinaScope Financial (Data)
+ YI Gang, Deputy Governor of the Central Bank and Director General of the State Administration of Foreign Exchange, pointed out on July 21 that the CNY exchange rate is close to its equilibrium and that it is expected to remain at this level in the foreseeable future.
+ China's foreign exchange reserves were stable in 2011. People interpret this as a result of less Central Bank intervention, improved demand and supply conditions, and less volatile capital in and outflows.
Due to the higher inflation rate in China compared to most of its major trade partners, the real appreciation of CNY was quicker in the past two years, pushing CNY exchange rate to its equilibrium quicker than expected.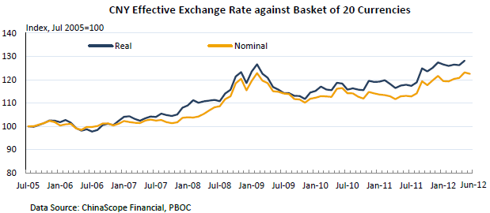 Real CNY appreciation against industrialized economies currencies is accelerated by higher inflation in China. In relation to emerging market economies currencies, China's inflation is markedly lower and so is the real appreciation.