Source: China Bond, ChinaScope Financial (Data)
+ The Ministry of Railways (MOR) will auction CNY 27 billion bonds today. This is the MOR's third bond issuance in 2012; CNY 20 billion and CNY 18 billion bonds were issued in June and early July, respectively.
+ The State Council and the National Development and Reform Commission have allowed the MOR to issue a record high of CNY 150 billion bonds in 2012.
Asset growth is outpacing revenue growth, leading to decline in the gross margin.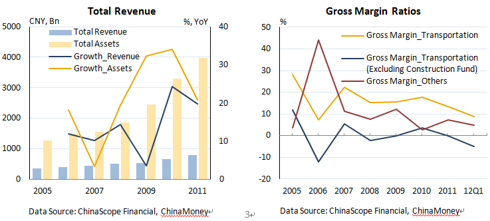 High fixed assets investments have necessitated increase in debt taking, most of which is from domestic long-term loans.