UPDATED 7/20: Arbutus Bio Ready For A Big Runup
Please Note: Blog posts are not selected, edited or screened by Seeking Alpha editors.
Long/Short Equity, Deep Value, Value
Seeking Alpha Analyst Since 2011
Team StockMatusow.com research and writers are: Scott Matusow; Team Leader, owner and founder of StockMatusow.com and Dan Cohen, partner, and independent investor/scientist/inventor/trader and lead contributor at stockmatusow.com. Scott is an independent investor/writer/trader and team leader of StockMatusow.com. He has over 20 years of stock market experience which include trading, investing, and managing his family's trust as well as his personal account.
Scott has had the most success in trading/investing in smaller cap growth companies. Because Scott is not 'officially trained' in the markets, he see things outside the box, using his experience to provide clarity and alpha. Scott uses his ability to read situations, emotion, charts, times and sales, historical data, and macroeconomic and other market forces to predict stock price movements, in both short and longer terms situations.. Using these acquired allowed for him to completely divest his own and family's money near the top of the market before the 2008 financial crisis.

Dan Cohen is a partner at stockmatusow and entrepreneur in the fields of nanotechnology, medical diagnostics, and energy storage.
Additionally, Dan is a Scientist and inventor. He has 7 years of experience investing and trading biotechnology focused equities with a specialty in identifying under-appreciated value in small caps. Dan utilizes his experience reading and reviewing scientific literature to evaluate prospects for success. His work with diagnostics development give him a strong background in immunology which is leveraged in evaluating immunology focused approaches. As well Dan has 5 years trading futures, specializing in E-minis and Treasury products. He utilizes a combination of technical analysis, deep scientific research, and macro views to generate alpha for the team.
Places you can follow Scott are: www.stockmatusow.com www.twitter.com/StockMatusow @StockMatusow http://www.facebook.com/TheScottMatusowShow
Places to follow Dan are: https://twitter.com/biosleuth
Summary
Covid19 continues to dominate the Biotech headlines these days.
Many 'Covid' plays have run up as high as 1000% and more.
Arbutus is a play we are hearing may be run up soon.
In this short blog write-up, we will explain why the chart is ready to run in addition to the potential catalysts this stock has upcoming.
Arbutus Biopharma (ABUS)
Updated 7/20/2020: Stock has been on a run as predicted. A positive patent decision for company might see this stock run far beyond our top range of $4.25.
Truth be told, the patent decision while important really isn't as big as most think, but market perception equates to a higher stock price = FACT - (NVAX) should not be $145 a share either and it is so...
Biotech is the hot money sector right now so enjoy the ride while it lasts! Link to the document that is in part behind the current run and gives a positive opinion on the patent issue can be found HERE.
For this year, Arbutus has two key milestones to look forward to. The more concrete of which is the upcoming multiple ascending dose study of AB-729 in Hepatitis B infection. Notably AB-729 demonstrated promising early results in the single ascending dose portion of the study wherein both the 60 and 180mg cohorts showed sustained response as measured by reductions Hepatitis B Surface Antigen (HBsAg). Despite only one dose, responses deepened at week 12, which bodes well for the durability in the upcoming multiple dose cohort, who remain on therapy for up to 6 months.
Further adding intrigue to the ABUS story is the recently announced efforts to discover a treatment for COVID. This leverages both the company's platform and company's Chief Scientific Officer (CSO) Sofia's antiviral expertise, highlighted by the Sovaldi success. The company is focusing is efforts on discovery of a nsp12 viral polymerase inhibitor, which if successful would be a pan-coronavirus target.
Sofia is of no stranger to viral polymerase inhibitors, a class which Sovaldi falls under. Whether his prior success with HCV will translate to COVID remains to be seen, but we believe ABUS's pedigree warrants a second look by investors, traders, and government grants alike. We have this saying; 'once a winner, always a winner,' and Sofia has been a big winner in the past with creating and bringing forth successful drugs out of clinic and into commercialization.
The chart setup here is one of our favorite ones we look for. We saw a similar setup in Trillium (TRIL) when it was 30 cents, and Curis (CRIS) when it was 80 cents. Cris ran almost to $4 a share from 80 cents in 2 days, and Tril's first run was from 30 cents to $4 - We think Abus is going to see a similar run based on not only the chart we will go over below, but for the binary/catalyst reasons we have mentioned above.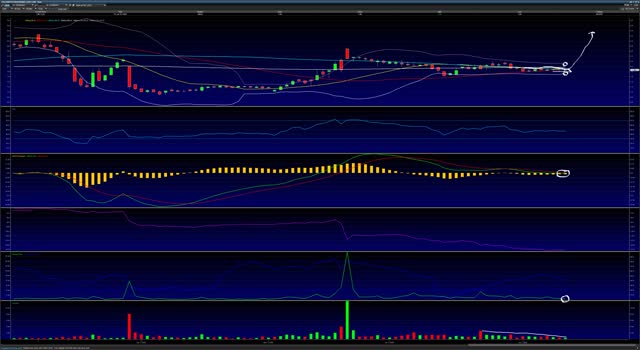 Starting from the top part of the chart, we have circled the Bollinger bands that are showing a channel that is tightening up. Note that in the price candles, we see our favorite chart set up emerging - a subtle flattening 'W' valley. Both Tril and Cris showed this exact same set up before they ran up hard and strong. Now, we do see a possibility of the price dropping just a tad more here as indicated by the lower circle we draw on this chart which is basically $1.78 to $1.80 (+/- 3)
2nd window shows a stock neither oversold nor overbought in terms of relative strength indicator - RSI.
3rd window shows the MACD Histo coming back around after a long consolidation/churning of the stock - positive indicator
4th window shows a very flat accumulation/distro - there's a lot of room upwards here because the sellers have run their course. Normally, if the accumulation is too high here, we would balk on this chart a lot because often times it tells us that there have been too many buyers before a run = there would likely be too many sellers to support a higher more sustained run up price.
5th window is very interesting - this is an indicator we look at in terms of dev. biotech first and foremost. The green money flow indicator is one of the best indicators going. If the green is spiked too high, then a reversal is soon to happen. If forced down too low, a stock is ready for a recovery from oversold conditions. Here, the line is flat which gives us a lot of room upwards.
What we see here in terms of upwards price movement is between $3.50 and $4.25.
However, there are always risks in any trades we engage, even when they look as good as Abus does. We see a downside possibility of around $1.45, so we feel the upside case here is much stronger, notwithstanding the 2nd half-guided Covid data, Normally when companies guide like this, we usually see data late Q3 to early Q4, so mid-September to mid-October.
Anything Covid (often times, many of these stocks are wrongly speculated as Covid plays) plays are really 'hot' right now. We have engaged and have had or have positions in symbols as;
(BOXL), (LEDS), (AFMD), (COCP), (NVAX), (MARK), (FRSX),  and many others especially in Rare Earth plays (hot and cold) like (OTCQB:TMRC) and (OTCQB:REEMF).
Our top longer term speculative developmental biotech play is Calithera (OTC:CALA) with our 1 year PT $30 to $50.
Daily, we host a free chat where we are on audio and video, reviewing and showing on video numerous charts, market analysis, and general financial commentary a long with various other commentary that effects or could effect the stock markets. You can join us absolutely for free here at THIS LINK
(Free registration required above for Discord audio, chat, and video, the platform is 100% free, no hidden costs)
Analyst's Disclosure: I am/we are long ABUS, CALA.
Disclaimer: This article is intended for informational and entertainment use only, and should not be construed as professional investment advice. They are our opinions only. Trading stocks is risky - always be sure to know and understand your risk tolerance. You can incur substantial financial losses in any trade or investment. Always do your own due diligence before buying and selling any stock, and/or consult with a licensed financial adviser.
Seeking Alpha's Disclosure: Past performance is no guarantee of future results. No recommendation or advice is being given as to whether any investment is suitable for a particular investor. Any views or opinions expressed above may not reflect those of Seeking Alpha as a whole. Seeking Alpha is not a licensed securities dealer, broker or US investment adviser or investment bank. Our analysts are third party authors that include both professional investors and individual investors who may not be licensed or certified by any institute or regulatory body.