The airline business
Clearly, a pandemic that shuts down near all leisure air traffic, most business such and at times actually has bans on crossing borders is going to have an effect on the airline business. So it has, this one this past year. Some airlines have been able to ride it out, some have been subsidised to do so and some have fallen hard. Norwegian Air Shuttle (OTCPK:NWARF) is one of the last.
The company was grossly over-extended before all this happened and needed a healthy following wind to survive even after its first recapitalisation before covid. The events of the past year haven't helped and the airline is currently in the equivalent of Chapter 11.
Well, the near equivalent, corporate restructuring processes aren't exactly the same in different jurisdictions but the major aircraft owning part is in "examinership" in Ireland and the Norwegian part in the local equivalent. As far as we're concerned as investors we can think of this as being Chapter 11. That means that there must be a surplus of corporate equity over the debt burden before we see any return from holding the equity.
Well, maybe there is some value?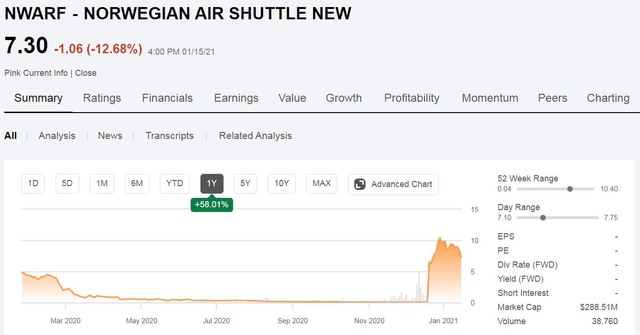 (Norwegian Air Shuttle stock price from Seeking Alpha)
As we can see the stock has jumped 100 times in value there. Maybe that's because of some finding that there is something there? Or perhaps a government guarantee or bailout package? Nope, no such luck, this is the result of a 100 for 1 consolidation – also called a reverse stock split. 100 old shares are now 1 new share and that's the reason for that jump. A few people seem to have thought that meant something more so it jumped a little further than the change warranted but as you can see it's been slipping backwards since.
Bond issue
There has been other activity, a bond issue for example. Quite who would buy a zero coupon perpetual convertible – which is what the issue was – is difficult to work out and the answer is that they didn't. This is part of creditors swapping debt for equity and thus part of the general dilution of the equity position.
So, what next?
The situation is pretty much as I described it a few months back:
It is, perhaps, vaguely possible that yet further debt for equity swaps might take place. But they would mean that even the current derisory equity value getting wiped out. Again.

Other than that the airline isn't going to survive into those sunlit uplands of the European flight market booming again. They're going to run out of cash before that happens - even with the vaccine it's going to be the summer and more before the market truly reopens.
What's happened since then is that this position has become clearer. The Norwegian government isn't going to put enough in to make a difference, they've tried to tap Sweden too with no great luck. They're trying to get more debt for equity work done:
The Company has, and will continue to have even after the restructuring described herein, a significant amount of indebtedness, including substantial fixed obligations under aircraft leases and financings. The Group expects to have significant capex and other commitments in the future and will need additional financing. The ability of the Company to make scheduled payments under its indebtedness and to comply with financial covenants in its financing agreements will depend on, among other things, Market recovery from COVID-19, its future operating performance, ability to raise further capital and its ability to refinance its indebtedness.
But as we can see even after they manage – if they do – to get done the current round of such refinancing they still don't have enough money to continue. They'll need another recapitalisation:
Even if the Company should be able to conclude on the current restructuring process, there is a significant risk that the Company becomes insolvent and enters into bankruptcy if, inter alia, the Company's is not able to reach an agreement with creditors, reduce debt, access to financing and working capital and regain normalized operations
Yep, even if this Phase 2 goes through they're still likely to go bust.
If the Company does not exit the examinership and the reconstruction processes in a successful way, it is highly likely that the Company will enter into liquidation and/or bankruptcy proceedings during the first or second quarter of 2021.
And if they manage that then they still need to raise more working capital. Something that will significantly dilute the current equity holders.
My view
This is really an information note rather than a recommendation either way on the stock. My view stays as it was, that the likely outcome is that move from rou8ghly Chapter 11 to roughly Chapter 7, that is full on bankruptcy and liquidation. There will be no return to equity as and if this happens.
But it's possible for people to look at that bounce in the stock price and think there might be something here. There isn't, it's just a result of that consolidation.
The investor view
Even if they manage to exit the examinership – that's the important one, in Ireland, because that's where the aircraft are based and owned – there will still need to be a significant equity raise to allow continued operations. The dilution of that will be such, even if it gets to that stage, that the current equity will be pretty much worthless. This isn't something to buy in order to see what happens, this is something to watch from a distance.